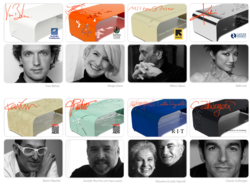 The Botanist™ range is actively looking for additional licensing opportunities in emerging markets worldwide to help spread its socially responsible message.
Los Angeles CA (PRWEB) April 01, 2013
Botanist™, the eco-friendly product series from Orange22 Design Lab, announces its place within Sydney-based Baresque's inaugural Baresque Studio Collection, following an exclusive licensing agreement between the two brands covering Australia and New Zealand. Baresque, which recently announced its expansion into finished goods, will manufacture the Botanist™ range of benches and side tables by designers Milton Glaser, Massimo & Lella Vignelli, Karim Rashid, Yves Behar and Botanist™ founder Dario Antonioni, among others. The Botanist™ range is actively looking for additional licensing opportunities in emerging markets worldwide to help spread its socially responsible message.
"My early design career took me to far reaching corners of the world where the negative impact of mass consumerism on both the environment and its people was unmistakable. I became committed to one day producing products with a greater purpose, that carried with them a message of mindfulness about our world," says Dario Antonioni, founder, Botanist™. "This is exactly what Botanist™ has become and my team and I are thrilled to see that our message is now spreading globally."
Constructed of lightweight aluminum, Botanist™ benches and side tables are powder coated and oven baked to deliver a highly durable and UV stable finish, suitable for both interior and exterior spaces. The pieces licensed by Baresque feature a strong support structure, anti-theft security feet and an authentic signature medallion. They are offered in 18 powder coat colors, which have been selected to integrate seamlessly with Baresque's Lightblocks Board colors, utilized across the Baresque range. As with all Botanist™ sales within the United States, a percentage of revenue will be delegated to a charity of the designer's choosing.
"It is very exciting to be able to bring the highly acclaimed Botanist™ collection to Australia," says Angus Blaiklock, executive director, Baresque. "We are also proud to manufacture the products, designed by world-renowned designers, right here in Australia. Included within our newly launched Baresque Studio Collection, Botanist™ is an extension of our inspiring and innovative furniture solutions."
Botanist™ founder Dario Antonioni is available to discuss the agreement, as well as the philosophy behind Botanist™ and its offerings. Please contact Amy Benson at amy(at)acbmedia(dot)org or 917-806-1584 to arrange.
About Botanist™
Botanist™ is an eco-friendly product offering from Orange22 Design Lab, featuring the work of internationally renowned designers who are committed to social responsibility. Leveraging a green approach to just-in-time manufacturing and online business efficiencies, Botanist™ is committed to reducing environmental impact while benefiting social causes. Two percent of all Botanist sales benefit partner foundations chosen by each participating designer. Currently, Botanist supports 18 foundations with over 650 product SKU's. Learn more about Botanist™: http://www.botanistseries.com.
About Baresque
Founded in 1975, Baresque is Australia's premier distributor and fabricator of wallcoverings, fabrics and architectural finishes with offices Australia-wide in Sydney, Brisbane Melbourne, Perth and Adelaide. Australian owned and managed, Baresque's client portfolio across hospitality, health, retail and finance includes five star hotels and large scale retail and commercial projects. Baresque is renowned for its leadership in bringing a wide variety of quality commercial interior design material and finishes from around the globe to market. It is the destination for architects and interior designers seeking inspiration, quality product, outstanding service and insightful, solution-oriented expertise.
# # #