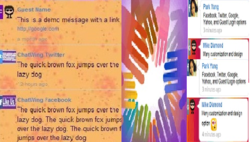 Dallas, TX (PRWEB) April 22, 2013
Global online inquiry through websites will now be easier with the release of Chatwing's newest chatroom tool. In the new version, features were enhanced so that users can have a new communication experience. Chatwing also integrated a social media function, so visitors can take discussions to new levels. With social media integration, visitors can log in with social media accounts. Chatwing's developers also introduced a chat network option that allows users to link their chatrooms together.
Registered Chatwing users can now have more customization options in the chatbox. These options are color schemes, font styles, background images, social login methods, and different admin parameters. Chatwing's new color schemes and styles allow the user to edit the chatroom according to their preferences. Now, they can design a chatroom from scratch. Users can also upload background images for branding and marketing methods. Users can create unlimited chat boxes for all websites and blogs that they want to maintain. Chatwing tool also offers real-time communication, speeding up online inquiry in websites and blogs.
Through various feedbacks, the Chatwing Team mapped out several strategies. Back then, Chatwing has almost struggled in gathering users across different online communities. After applying different strategies, Chatwing pulled through and introduced reliable features. Now, the chat network feature is attracting thousands of visitors worldwide. This can be accessed in the dashboard along with customization options.
Chatwing developers have recently stated that they will add more themes and features in months. The new features will ensure that users can communicate with each other effectively. Information about these features will also be posted in Chatwing's Facebook page.
About Chatwing.com
Chatwing.com specializes in the new field of website chat. Over years, the Chatwing team has introduced live chat widget for hundreds and thousands of blogs. The Chatwing application bridges people from many parts of the world, creating global synergy through the Internet. The shout box can be installed in just seconds, and it can be used for varying purposes such as leisure and Internet marketing. It also allows a user to customize the size, color, and name of the widget. Chatwing is 100% free for everyone.