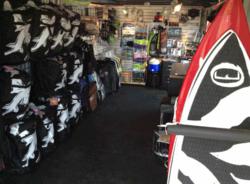 Emeryville, CA (PRWEB) April 01, 2013
With spring's arrival, the winds are perfect. In fact, a windy season is expected in the Bay Area this year, packed with events and other offerings from KGB Kiteboarding.
The 11th Annual Pismo Beach Kiteboarding Expo is being held this year from April 12th-14th. Kite surfers can also look for an upcoming announcement from KGB about the 3rd annual KGB Demo Day & Season Opening Event, which will be held at Toll Plaza Beach, Oakland sometime in late April.
In addition to a new website, KGB has also introduced On-Line Scheduling this season, making it very easy to make an appointment. They are also having a Spring Sale now through April 10th with huge savings on new and used 2013 gear!
KGB Kiteboarding will reopen their Emeryville kite surfing shop location April 1st for the 2013 Spring & Summer Seasons.
School hours are from 10-6pm daily, by appt. only in April.
Shop hours are on weekends only from 10-6pm in April. And 10-8pm daily from May-Sep.
KGB's San Leandro location will open May 10th.
New for this season will be their welcoming tent and lounge area, as well as a new awesome team of instructors & staff (along with the old favorites), extended hrs, a full time 2nd location, Sup Sales & Rentals in Emeryville and last but not least, new brands and product offerings in the shop.
Right now is a great time to take advantage of awesome discounts on new & used/demo 2012/2013 Gear from Best, Hyperflex, Litewave, Dakine, Prolimit and more.
Sales include: 2013 demo kites (both new & used), boards & bars from Best priced at 35%-50% off and 2013 kites at 50% off.
Kiters will save at least 15%-30% on every new & in stock item in KGB's shop now through April 10th! There are many models and sizes to choose from and they are all in excellent condition.
To learn more about sales and availability, contact KGB Kiteboarding at 888-411-0732 or visit them online at http://www.kgbswag.com.