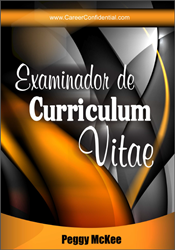 Dallas, TX (PRWEB) April 03, 2013
First step to the job search is the resume. The resume is the job seekers advertising material. This is what gets the attention of prospective employers and steers them toward inviting the job seeker for an interview. Peggy McKee has tips to help any job seeker create a knock out resume. That valuable information is now available with three eBooks in Español on Kindle as well as English.
Peggy McKee offers advice on creating a resume that is guaranteed to give every job seeker the best resume ever. These three eBooks on Kindle in Español cover the basics for anyone looking for a job. Peggy teaches to remember the basics; such as, making sure the ink is not smeared, no grammatical or spelling errors and that the text is broken down in small sections and not in huge chunks. An award winning resume should be easy to read and start off with an objective filled with power words.
Regardless of the position or what level a job seeker is interviewing for, there are basic questions that can get the most seasoned professional tongue tied. How a job seeker answers these difficult questions can make all the difference if a job offer is made. Peggy McKee offers tips and tricks for any job seeker and her wisdom is now available in Español on Kindle.
From the most dreaded question "Tell me about yourself" to the next most dreaded question "What's your greatest weakness?" These questions can make any job seeker stumble, stutter and crash. Recently released and available in Español on Kindle, Peggy McKee has the tips and tricks on how to answer those questions.
Job seekers must remember that these questions are the golden opportunity to sell themselves to the hiring manager by using strategic planning and think like a hiring manger. This is the time to customize the interview so that it makes the job seeker shine. A big part of the smart strategy is the job seeker should be armed with questions to ask.
There are two questions that a potential candidate should ask during their interview. This book contains the questions every interviewee should ask and how to answer them effectively. The first question is "What are you looking for in a candidate?" and the next question would be "What do you see as my strengths and weaknesses as a candidate?" Peggy offers a variety of ways for job seekers to ask these questions with their own style. With these eBooks recently released in Español on Kindle, every job seeker that reads and implements them, can put themselves ahead of all other candidates.
The timid job seeker may wonder why they should ask these types of questions, after all, they want the job and shouldn't they be more humble? No! Not in today's job market and with the advice and tools that Peggy McKee has created and laid out in clear steps that any job seeker can follow, the reason these questions need to be asked is explained. After watching the recorded webinars and viewing the videos that Career Confidential has released, job seekers will see how and why to ask these questions.
Those tips, tools and tricks have now released in three eBooks on Kindle in Español and the time to get started is now! Don't wait another moment to take advantage of these eBooks recently released Español versions that has gotten thousands of job seekers employed in the English version.
# # #
Career Confidential is committed to getting the unemployed back to work in 2013. After assisting over 10,000 people get a job, Career Confidential has set a goal to get 10,000 more people their dream jobs in 2013.
Based in Texas, Career Confidential specializes in the techniques and tools needed for a job search to be successful. With the guidance of CEO Peggy McKee and CTO Carl Chapman, two nationally recognized experts in the field of job search training, Career Confidential was founded in 2009. Their original product, the 30/60/90 Day Business Plan, has been distributed among job seekers across the world. From that one product, they now offer over 30 products that teach techniques and tricks to help every job seeker to land that perfect job.