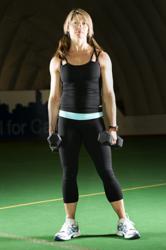 A workout for a 20 year old woman isn't going to be the same for a 40 year old woman.
California (PRWEB) April 10, 2013
Shawna Kaminski is catering to a demographic of women over forty years of age. Her new program, which can be accessed exclusively online at http://www.femalefatlossoverforty.com/, sells for $39.95 and comes with a money back guarantee. The program provides women with instant access to customized training and 12 bonus videos.
"I saw a need for women over 40 because their bodies are different. I designed a program that can be accessed from anywhere," said Kaminski. "A workout for a 20 year old woman shouldn't be the same as one for a 40 year old woman. No one in the fitness industry has addressed this issue- so I thought I would! My workouts are 20 minutes long and make a huge impact," continued Kaminski.
Shawna Kaminski includes her best weight loss tips for women in the program, too. "I designed these home workouts for women over 40 years of age because they are needed and they work. The price point is reasonable and I guarantee results. Now, women can actually lose weight at home- which is a bonus for those who are uncomfortable in a gym setting," continued Kaminski.
Female Fat Loss Over 40 helps women increase their metabolism, transform "jiggly" arms and helps develop flat abs. Members of the media are invited to request a free copy of the program for review.
About Shawna Kaminski. Shawna Kaminski is a retired schoolteacher of 20 years who's found her passion in the fitness industry. She's parlayed her ability to teach and her love of training into programs that hundreds have benefited from. Currently she owns and operates fitness boot camps in Calgary. Shawna is a 49 year old mother of two who can knock out over 20 pull ups with ease and she can teach virtually anyone with determination to do a pull up.