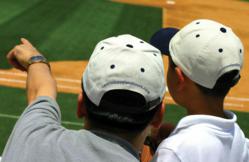 Baseball season is just around the corner, and fans are ready to travel, and get their game on!
(PRWEB) April 11, 2013
Baseball Road trips cover most of the major league parks and several minor league parks in all parts of the country, and fit all schedules and budgets.   For avid travelers, "The Wheelhouse" six-day tour includes ball games in Philadelphia, Washington, DC, Baltimore, Pittsburgh, Cleveland, and Detroit, with stadium tours, museum visits, and the Rock 'n Roll Hall of Fame.  For baseball fans that just have a weekend to enjoy their favorite sport, the "Beantown Blast" includes three games—all in Boston—coupled with a city tour, stadium tour of Fenway Park, and leisure time for their own exploration of the city.  "One of the highlights for me," said Michael Coldesina, Travel Industry Accounts Manager and tour host, "is meeting the great people who come on our road trips.  The camaraderie is great."  Due to the varied teams, ballparks, attractions, and event highlights, each tour is unique, to make it a one-of-a-kind trip.
Baseball fans also appreciate enjoying more games, and less travel time between stadiums.  But when travel is needed, fans are treated to luxury motor coaches, quick airline trips, and even travel by train—a favorite feature of the "Riding the Rails" Road Trip, which includes train travel from Boston to New York City, so that fans can leisurely enjoy beautiful scenery while debating the merits of favorite teams and players.  Added to this trip are four games, a NYC city tour, stadium tour, and leisure time in the Big Apple, which makes it a hit with fans of all ages.  
A highlight of the year for many baseball fans is the Hall of Fame Weekend in July.   "Many of our clients are looking forward to the Hall of Fame Weekend this year," noted Teresa Weybrew, Director of Sales for Sports Travel and Tours.  "They especially enjoy the induction ceremony for new class, and seeing some of their favorite players return for the weekend events, such as the Hall of Fame Parade."  Devoted baseball fans also enjoy the awards ceremony and other events, and they cap off the weekend by touring the National Baseball Hall of Fame and Museum.
"We hear from avid baseball fans that their dream is to see a game in every stadium," said Jay Smith, President of Sports Travel and Tours.  "We do our best to assist these fans by providing trips to as many stadiums as possible, and by making each trip the highlight of their summer."  Sports Travel and Tours Baseball Road Trips fill up quickly, so book your trip soon, for a not-to-be-forgotten summer.
For more information or to schedule an interview, please contact Teresa Weybrew at teresa(at)sportstravelandtours(dot)com