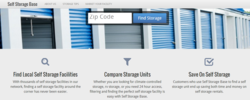 (PRWEB) April 03, 2013
Selfstoragebase.com has finally launched after over two years of preparation with the mission of becoming the ultimate destination to research the different storage options available. Many companies allow comparisons of just self storage for example, but Self Storage Base has set out to make it easy to quickly compare the benefits of mobile storage side by side with traditional storage. Searching for local storage companies has never been easier for a customer, while also allowing them to compare pricing, all while on the same web page. Whether looking for 5X10 self storage units, or 20 ft storage containers, Self Storage Base gives the customer many options to choose from.
First time storage renters often have difficulty navigating the hundreds of local options and differentiating between providers. Selfstoragebase.com cuts through the clutter to provide intuitive search functions to help find the closest storage options based on price, size or amenities they are looking for. Customers can save time and money while looking for the best options for every self storage need. Customers that can easily and effectively find the exact storage solution that best fits their needs are more likely to become long term tenants, a win win for consumer and storage facility.
Self Storage Base helps customers weigh their options between self storage, mobile storage (on-site or off-site) and then research local companies from a database of over 40,000 storage companies.
3 Types of storage to choose from:
Self Storage- This is the most common way to store stuff and what people are most familiar with as they pass these facilities every day on the freeway. Self storage is a convenient, low cost way to free up space around a home or office. Consumers are assured their belongings will be secure and relatively easy to access (often 24 hour).
On-Site Mobile Storage Unit Comparison- Generally a 8X20 ft or 8X40 ft container that is dropped off and kept at the customers property. This is typically the lowest cost storage option, as refurbished cargo containers can be used for mobile storage for decades. The container is protected from the elements, and customers always have easy access.
Warehouse Mobile Storage- This option is great during a home remodel, or for short distance moving. Consumers store their belongings in a storage container, and then it is transferred to a local warehouse until it is needed. The drawback with this option is that items are not easily accessible. A big benefit is that mobile storage containers can be used for moving from one address to another.
SelfStorageBase.com is fantastic at putting local, pre-qualified self storage facilities and mobile storage companies in front of customers, which is very helpful when comparing pricing and receiving the best possible pricing on all storage needs, check it out today.