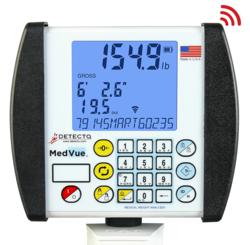 The MedVue's Wi-Fi connectivity allows wireless EMR/EHR for maximum efficiency in a medical office.
Webb City, MO (PRWEB) April 01, 2013
DETECTO has launched the new USA-made MedVue® medical weight analyzer which will be featured on select DETECTO eye-level, waist-high, wheelchair, and bariatric scales the company manufactures for the clinical market.The MedVue® offers a striking blue 3.5-inch-wide by 3-inch-high backlit LCD display screen with weight digit readouts that are nearly 1-inch high for easy visibility. The MedVue® features a 350-degree swivel mounting bracket which allows the display to be tilted and rotated into position wherever it is most convenient for the medical professional and/or patient to view. A host of other benefits include 14-digit patient ID which may be entered via the alphanumeric keypad, 99 stored tare weights, 200 stored transactions, and four different languages available in set-up (English, Spanish, French, and German).
The MedVue® offers a host of both wired and optional wireless connectivity for sending measurement data to multiple devices all at once. The MedVue® can connect with printers, PCs, networks, tablets, bar code scanners, and even mobile phones through its RS232 serial and USB ports and optional Ethernet and Wi-Fi connectivity for efficient EMR/EHR. The MedVue's Wi-Fi connectivity offers a number of benefits over Bluetooth, including greater distance range for data transmission and security advantages.
The MedVue's exclusive 1LOOK feature displays weight, height, and Body Mass Index onscreen simultaneously. For MedVue-enabled scales utilizing a DETECTO digital height rod, the patient simply steps onto the scale, raises the height rod into position, and their weight, height, and BMI are all shown onscreen together for viewing.
The MedVue's StableSENSE® feature digitally filters the weight signal to produce a stable weight display despite any patient movement that might occur. The indicator's LOCK/RELEASE key allows users to hold a weight temporarily while the medical professional attends to the patient before recording their measurement.
For more info:
http://www.detecto.com/cs_product/medvue
Contact:
DETECTO
203 East Daugherty St.
Webb City, MO 64870 USA
800-641-2008
http://www.Detecto.com
detecto(at)cardet(dot)com