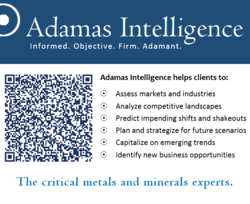 Foreign technology developers have become unknowingly reliant on China's illegally-derived supplies of yttrium oxide
Toronto (PRWEB) April 02, 2013
Global demand for yttrium oxide (yttria) is forecast to rise at a compound annual growth rate (CAGR) of 15.2% to reach a towering 21,360 tonnes in 2020.
This growth will be fueled by demand for energy efficient lamps, ubiquitous electronics, solid oxide fuel cells, and advanced materials, according to a new Adamas Intelligence report.
Challenging this demand growth is China's hegemony over global yttria supply, and the stiff production and export restrictions it imposes.
At current levels of yttria production, global supply shortages are forecast to occur by 2014 and will grow through the end of the decade to reach 14,967 tonnes annually by 2020.
"Additional yttria production in- and outside of China are needed to ease imminent shortages, although, even in the most optimistic scenario, shortages will persist beyond 2014 – the question is just how short will we be," said Ryan Castilloux, Adamas Intelligence analyst and lead author of the report.
"Despite impending shortages there are several strategies non-Chinese technology developers can employ to survive, thrive, and profit through 2020 while alleviating supply risks," he added.
Adamas Intelligence developed supply- and demand-side forecasts to bracket the range of future supply-demand balances in the yttria market through 2020.
Among its findings:

China's ongoing culling of illegal mining will exacerbate shortages.
From 2007 through 2012, more than 60% of global yttria production was derived from illegal mining operations in China, and as a result, foreign technology developers have become unknowingly reliant on the nation's illegal supplies. China's ongoing slashing of illegal rare earth oxide production will drive the yttria market into short supply by 2014.
China's demand alone could exceed global supply by as early as 2016.
In the worst-case scenario, with no new yttria production in- or outside of China through the end of the decade, China's yttria demand alone will exceed global production in 2016. The cumulative global yttria deficit from 2014 through 2020 will top 50,000 tonnes, with an annual shortage of nearly 15,000 tonnes in 2020.
Amidst shortages, demand from phosphor manufacturers will get preferential treatment.
Because energy efficient lamps from the likes of Philips and GE, and display screens from the likes of Sony, Samsung, and LG, utilize the highest purity, thus most expensive, yttria available, as supply shortages persist beyond 2014 suppliers will divert their limited capacity to meeting demand for the higher value end-products that phosphor consumers command.
China will dominate nearly all value-added activities in the yttria market by 2020.
Through the end of the decade, by means of climbing up the technological ladder, China will overwhelmingly dominate downstream activities in the yttria-bearing technology value chain. Foreign technology developers, such as Panasonic, Cree, OSRAM, and others will continue to rule the landscape of intellectual property and the frontier of innovation.
The report, titled "Yttrium Shortages are Imminent: Illuminating Opportunities for Players to Stay Engaged," is part of Adamas Intelligence's ongoing coverage of Critical Metals and Minerals Sectors.
About Adamas Intelligence:
Adamas Intelligence provides strategic advice and ongoing intelligence on the most critical sectors in the mining industry today. By coupling our objective, data-backed research methodology with our analysts' technical expertise and ever-widening industry awareness, we help investors, technology developers, mining companies, and other stakeholders capitalize on emerging trends and new business opportunities in critical metals and minerals sectors. Leaders in business, finance, and government rely on us to help them make informed strategic decisions. Visit http://www.adamasintel.com for more information.
Contact Information:
Adamas Intelligence
Ryan Castilloux, 347-708-0054
rcastilloux(at)adamasintel(dot)com