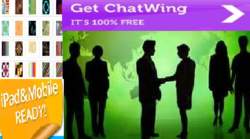 Houston, TX (PRWEB) April 26, 2013
Entrepreneurs can now communicate effectively through the latest Chatwing chatroom app. This cutting-edge tool can be installed in any website or blog, raising online presence by a high percentage. Entrepreneurs can also benefit from the real-time communication advantage offered by the chatroom, and they can build subscriber groups within days or weeks.
Since entrepreneurs need a continuous flow of marketing effort, the Chatwing chatbox can become handy. Once installed to a website, it can provide connectivity among the visitors and website owner. Visitors can discuss freely in the chatroom and they can even share links of their respective blogs. Social media is another important part of the chatbox, wherein users can log in with their Facebook and Twitter accounts. Recently, Chatwing Team has added Google and Yahoo login methods.
When it comes to customization, the Chatwing app is highly competitive. The user can design a chatbox from scratch, combining multiple colors with other styles. Chatwing also has an arsenal of background images—these images were created by Chatwing's developers. The user can also upload a background image link of his choice, as long as the link is valid and unbroken. In the account dashboard, users can create unlimited chat boxes as long as he can maintain all of them.
Entrepreneurs can also use the Chatwing app as an online inquiry tool. Since the chatroom offers quick website chat, web users can share their thoughts, opinions, and suggestions in just few minutes. Chatwing also has a Facebook page wherein the developers post important content about updates and strategies.
About Chatwing.com
Chatwing.com specializes in the new field of website chat. Over years, the Chatwing team has introduced live chat widget for hundreds and thousands of blogs. The Chatwing application bridges people from many parts of the world, creating global synergy through the Internet. The shout box can be installed in just seconds, and it can be used for varying purposes such as leisure and Internet marketing. It also allows a user to customize the size, color, and name of the widget. Chatwing is 100% free for everyone.