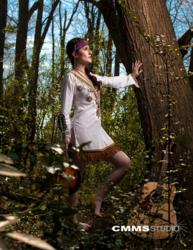 The photos are amazing… You guys ROCK!
Loris, South Carolina (PRWEB) April 01, 2013
The realm of fashion strives for out-of-the-ordinary images. A subject needs a variety of looks to become a kind of "chameleon" in fashion to fit into as many different outlets as possible. From extreme staged make-up to entirely all naturale CMMS Studio has access to the best makeup and hair stylists in the area who have been working in the industry for many years. CMMS Studio is set up specifically for modeling and pageant portraits, which counts with a makeup station, hair styling station and a private dressing room. Miami fashion designer Tanya-Marie McClendon recently teamed up with CMMS Studio to showcase her many different styles of women's apparel. CMMS Studio has discovered that high fashion models are found in some remote areas of South Carolina. "Country Girls" ranging from 16-30 were transformed into powerful women, and became what they were wearing when modeling for Tanya-Marie Design. "The photos are amazing… You guys ROCK!!" Tanya-Marie enthusiastically exclaims after viewing some of the recent breathtaking photography showcasing her clothing line.
CMMS Studio offers New York style photography for beauty pageant title holders right here in the heart of the south. Located on the South Carolina and North Carolina border, CMMS Studio has become the leader for pageant portfolios and head shots. There is no need to travel halfway across country to receive beautiful head shots for programs and photogenic competitions. A model can save money on the expenses of air travel, New York taxis and hotels instead relaxing while enjoying a vacation style stay in Myrtle Beach. CMMS Studio has more photogenic winners than other studios in the region, and has photographed over 100 beauty queens. Still they continue to produce extraordinary beauty inspired photos for all of their wonderful clients.
The entertainment industry says it best, "One day you are in, the next you are out." CMMS Studio takes this very seriously as they keep up with the latest trends along with classic portraiture. Whether auditioning for a role in the next blockbuster or needing a head shot for a playbill CMMS Studio have you covered. Actor/Actress head shots are extremely important when landing that opportunity for a first impression in front of casting directors. The casting directors see so many faces day in and day out. A strong head shot will differentiate an aspiring candidate and help make that lasting impression. CMMS Studio is capable of designing and printing comp cards/head shots to alleviate any stress that might arise when studying a role or memorizing important lines.
CMMS Studio has several different sessions for model photography, pageant head shots, and general portraiture starting at a surprising low fee of only $175. A client has the option to purchase images one at a time or in any quantity that desired. They deliver the finished Images in print and USB drives so a client gets the best of both worlds. Further clients receive images to share with family and friends on social media outlets like Facebook or Twitter. Pageant/Actor headshots can be used for program books, photogenic competitions, and personal use. CMMS Studio provides a shared copyright as part of the purchase.
About CMMS Studio
Located in Loris, South Carolina, Custom Multi-Media Solutions, Inc. was founded and incorporated with the objective of providing cutting-edge multimedia services ranging from Photography and Video to Graphic Design at affordable rates to people everywhere. CMMS Studio offers a wide variety of photographic services from Commercial Modeling to General Portraiture. We believe that every customer is unique and has specific needs. We provide personalized attention to all of our clients to help meet their personal budget. Our professionals include a video production team that films weddings, dance recitals and family events as well as producing high quality TV commercial spots, documentaries and industrial/training videos. CMMS Studio offers Graphic Design solutions for small and large business with three designers that can design anything from business logos to signs, brochures, billboards and web sites. No job is too large or too small.