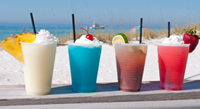 Professionally managed rentals often come with amenity packages that include discounts on everything from drinks and meals to sunset cruises and rounds of golf.
Destin, Florida (PRWEB) April 02, 2013
Finding a great place to stay at the beach at an affordable price can be a challenge. That's why the staff at BeachGuide.com recommends booking vacation rentals through an experienced management company, whose properties can often be rented at a lower rate than those booked through private owners. Professionally managed rentals often come with amenity packages that include discounts on everything from drinks and meals to sunset cruises and rounds of golf.
According to Herb Profitt, general manager of Pelican Beach Resorts in Destin, FL, one reason these listings can be more economical than owner-run properties is that management companies regularly review and revise their prices based on current demand and competition. "Many owners who list their property on their own set their prices once at the beginning of the year and leave them for the rest of the season."
Profitt further pointed out that using a professional property management company enables customers to choose from a variety of vacation rental units all in one spot. Reservationists are familiar with the features and amenities of all the properties they list, enabling them to match guests with the rental that best meets their needs.
Another strong suit for professional property managers is maintenance. Nothing can ruin a vacation faster than a malfunctioning air conditioner or a stopped-up drain. "Properties managed from afar could have problems that go for months without being addressed," said Profitt. "Or if something goes wrong, it could take days or longer to get it fixed."
When it comes to facilitating repairs, the pros offer a level of customer service most private owners simply can't match. And because they're available 24 hours a day, seven days a week, the pros are able to rescue locked-out guests and relocate just-arrived guests who are unhappy with their rental.
Another plus for the pros is that they're familiar with the area and can offer expert recommendations on entertainment, dining, shopping, and other local activities. Many offer additional benefits such as onsite check-in, onsite maintenance and housekeeping, free on-site movie rentals, on-site dining certificates, beach chairs and umbrella setups, children's activity programs, free tickets for dolphin or sunset cruises, big discounts on area attractions and other promotional perks.
Listings for professional property managers are just a click away at BeachGuide.com., a travel-planning website that specializes in up-to-the-minute information on beach vacation specials and rental rates for hundreds of Northwest Florida and Alabama Gulf Coast resorts, hotels and condos. Pelican Beach is one of over 100 Destin vacation rentals on BeachGuide.com. The site includes tips on restaurants, golf courses, fishing charters and other fun things to do. BeachGuide.com also offers an iPhone App that includes info from the website, plus an interactive feature that enables users to get driving directions from their current location to hundreds of vacation rentals, businesses, and restaurants. This handy travel tool is available for download free at the Apple App Store.