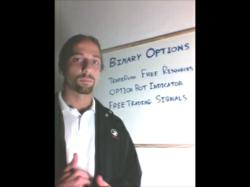 "..nothing in life is free, never take a bonus offer from a broker!" Michael Freeman on YouTube
San Francisco, California (PRWEB) April 01, 2013
Online Traders are always on the look out for new 'Day Trading' solutions and as Forex dominated this market for many years, lately investors are turning to Binary Options, a new concept of high profit and high risk trade developed in 2010, also know as 'Digital Options' is now serving as the most popular trading solution around the world. As this online market place grew in size it created a strong demand for educational centers and resources for traders seeking expert knowledge, many new portals and channels have surfaces to meet this need.
In 2013 we're seeing a growing interest in video type lectures as with various niches on YouTube, Michael Freeman's channel as well as many other channels on YouTube are focused on educating viewers and these type lectures often become viral as it engages and brings added value to online users.
In this Binary Options Channel, Mr. Freeman covers various technical and fundamental analysis strategies, as well as detailed reviews on various online brokers and trading software and a complete Binary Options Dictionary for new users. Online Traders can get access to 50+ video lectures covering all aspects of Online Trading.
Visit Mike's Binary Options Blog for videos and lectures at http://binaryoptions101.blog.com