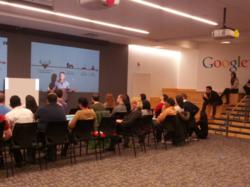 this trip was about showcasing our other offerings including a comprehensive program that transforms our clients' daily lives
(PRWEB) April 02, 2013
Mountain Trek Health Retreat has taken its holistic health reboot program across North America this past month with presentations in Vancouver, Toronto and at the Google and ABC corporate headquarters in New York. The British Columbia-based health resort is well known for being one of the only mountain hiking spas in North America but what people are also coming to realize is Mountain Trek offers an integrated, hormone-adjusting, metabolism-enhancing program that urbanites can incorporate into their busy day-to-day lives.
Kirkland Shave, Mountain Trek's program director, spent much of March in urban centres giving presentations to groups ranging from doctors to journalists to corporate executives. The junket culminated with a presentation at the Google headquarters in Manhattan about the "Muffin Top" and how weight problems are partially caused by such external factors as a modern-day office environment that has us sitting for over eight hours a day and the increase in consumption of hormones through topical cosmetics. The presentation includes tips and tricks on how to combat these kinds of external stimuli and find vitality in our daily lives.
"Many people believe Mountain Trek is just a beautiful resort in the Western Canadian Rockies that features hiking through wildflowers and relaxing at our spa lodge," says Shave. "This trip was about showcasing our other offerings including a comprehensive program that transforms our clients' daily lives."
Located in the community of Ainsworth Hot Springs in south-central British Columbia, Mountain Trek features a state-of-the-art lodge with an infrared sauna, hot tub, steam room, gym and yoga studio overlooking the beautiful Kootenay Lake. Client numbers are kept small (16 per week) and there is a minimum of one guide for every four guests. There's also a dietician, life coach and massage therapist on site.
"One of the common themes I noticed during all my presentations was the fact that people are experiencing job pressure like never before," says Shave. "They're unable to take vacation time due to project- and theme-oriented work and they feel a subtle pressure to keep producing as they age to compete with younger workers."
"It's a wake-up call when I tell them that 200 years ago the average work day was four hours long and today, what with the prevalence of smart phones, it's 14," Shave continues. "Our program stresses the need to take time for yourself and the best way to start the process is by coming to our supportive and beautiful health resort."
For more information about Mountain Trek, please call 1-800-661-5161, email info(at)mountaintrek(dot)com or visit http://www.mountaintrek.com.