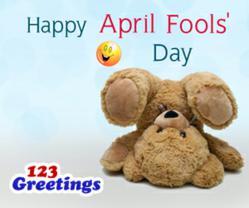 April Fools' Pranks provide a breath of fresh air and helps rekindle warmth and rapport... Of course, there are boundaries... Ecards present a safe, non-intrusive and fun way to celebrate April Fools' Day. - Arvind Kajaria, Founder, 123Greetings.com
New York, NY (PRWEB) April 01, 2013
There is a growing concern about the acceptability of pranks and jokes at the workplace, and bosses are increasingly expressing their concern over the fact that the fine line between what's acceptable and what's not is getting blurred. For April Fools' Day 2013, 123Greetings.com presents a collection of ecards that won't get you fired.
The workplace presents interesting challenges, as the raison d'être there is to be productive and to add value to shareholders. There are quite a few days in the calendar that commemorate various cultural nuances and keep people refreshed and rooted. Organizations and bosses cannot afford employees to get carried away on such occasions on a regular basis.
The flip-side is that such events or holidays at regular intervals keep employees refreshed and rejuvenated. It gives them creative ideas to engage with customers and audiences and also enables corporations to interact and engage employees at an emotional level.
It is the classic glass half full versus half empty situation. Arvind Kajaria, Founder of 123Greetings.com says, "April Fools' Pranks provide a breath of fresh air and helps rekindle warmth and rapport in all personal and professional relationships. Of course, there are boundaries, and it doesn't take a genius to tell when someone has gone too far. Ecards present a safe, non-intrusive and fun way to celebrate April Fools' Day."
April Fools' ecards on 123Greetings.com feature over 200 ecards across eight categories, enabling people to send free expressions to each other on this cheerful and joyous occasion.
About 123Greetings.com:
123Greetings.com is the world's leading online destination for human expressions reaching over 95 million visitors annually. Drawing from its tag line "Free Greetings for the Planet" the service exemplifies the notion that the best things are free in our planet and so should wishes, greetings and personal expressions be. Its offering of over 37,500 greeting cards covers a mix of 3,000 seasonal & everyday categories.
For details visit http://www.123greetings.com.