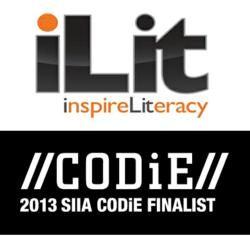 New York, NY (PRWEB) April 01, 2013
iLit, Pearson's core reading intervention program for struggling readers, is a finalist in the prestigious 2013 Software & Information Industry Association (SIIA) CODiE Awards. iLit, the first and only complete instructional solution built and delivered on iPad, is recognized in the Best Educational Use of a Mobile Device category.
Established in 1986, the CODiE Awards celebrate outstanding achievement across the software, digital information and education technology industries. This year, nominated ed-tech products underwent an intensive review by educator judges from around the world.
iLit offers students personalized learning support based on their own reading level and instructional needs. The program includes engaging inter-activities and built-in reward systems that motivate students and track their progress. iLit's design is based on the proven instructional model found in the Ramp Up Literacy program, which demonstrated students gaining two years of growth in a single year. It is the only reading intervention program with technology-based writing coaching.
In an iLit classroom, each day begins with the students reading a self-selected title from the thoughtfully curated high-interest leveled library, which culls Pearson's vast collection of Penguin, DK, Adapted Classics and other texts. The daily instructions gradually shifts the responsibility for learning from the teacher to the students, through explicit guided reading, modeling the fluency and meta-cognition of a successful reader while teaching important skills and strategies to fill reading deficiency gaps.
iLit recognizes that reading comprehension cannot be measured only by multiple-choice tests. Students must also be able to summarize a text's key points. By leveraging Pearson's award-winning proprietary technology learning solutions, iLit provides students real-time feedback and coaching on informal summary writing and formal essays. Scaffolded hints and personalized feedback allow the students to write and re-write independently, practicing skills in a safe, engaging environment before submitting for grading.
When teachers logon to iLit, they find a convenient dashboard where they can make individual, small group and class assignments as well as manage student activity and monitor progress. The program guides the teacher through the entire iLit learning process starting with: independent reading, moving through vocabulary study, guided reading aloud in a challenging text, discussing what students have read, and wrapping up the day's literacy lesson.
Pearson topped the 2013 CODiE Awards for education with 14 programs earning finalist honors. From classroom management and teacher professional development to virtual and mobile personalized learning solutions, Pearson's CODiE finalists are a testament to its commitment to developing innovative education technology solutions that improve student achievement.
In addition to iLit, Pearson's products moving on to the next round of competition in this year's CODiE Awards include digits, EQUELLA, Lab Investigator Tools, MyEconLab with Knewton Adaptive Learning, MyFoundationsLab, MyMathLab with Knewton Adaptive Learning, OpenClass, Pearson Teacher Compass Suite, Pearson iBook2 Textbooks, PowerSchool, Prep for the GED Test: MyFoundationsLab Edition, Propero and Schoolnet.
iLit and all of Pearson's finalists will now be voted on by the entire SIIA membership to determine the winners in each category. The 2013 CODiE Award winners will be announced at the 2013 Ed Tech Industry Summit in San Francisco on May 6.
For more information about iLit visit: http://redefiningliteracy.com.
About Pearson
Pearson, the world's leading learning company, has global reach and market-leading businesses in education, business information and consumer publishing (NYSE: PSO).
Contact:
kate.miller(at)pearson(dot)com – 1.800.745.8489