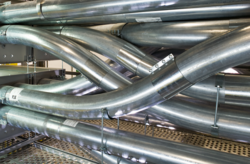 With the right team…new construction and facility expansions can indeed come in under budget and ahead of schedule.
Baltimore, MD (PRWEB) April 03, 2013
Pevco, a U.S. manufacturer focused exclusively on pneumatic tube systems (PTS) for hospitals, today announced that one of its PTS customers has been awarded the 2013 Vista Award for Best New Hospital Construction by the American Society for Healthcare Engineering (ASHE).
The customer, MultiCare Good Samaritan Hospital in Puyallup, Wash., was singled out for its new 82-bed patient-care tower, which was completed under budget and ahead of schedule. The project's projected budget was $276 million, but the actual cost was $266 million.
According to ASHE, "the Vista Award for Best New Construction is presented to an organization that has constructed a new facility essentially from the ground up. The new facility may be connected to an existing facility, but the building must have its own identity and be a new space."
Good Samaritan's new tower project included the addition of 21 stations to an existing Pevco pneumatic tube system. These new stations all incorporated Pevco Smart Path™, the company's traffic management technology that improves performance by increasing delivery speed and blower efficiency. The project was managed through Corona, Calif.-based Advanced Pneumatic Tubes, Inc., Pevco's sole distributor for the Western region of the U.S.
The annual Vista Award recognizes the importance of teamwork in creating an optimal healthcare physical environment. The winning team from Good Samaritan showed a unity of purpose that helped its project succeed from pre-planning to implementation, an ASHE press release said.
The team working on the new patient-care tower at MultiCare Good Samaritan Hospital faced several challenges, including a city zoning height limit, an aggressive time schedule, no budget contingency, extreme site conditions, and even an electrical fire. Hospital President Glenn Kasman, FACHE, said collaboration and focus led to decisions that enhanced safety, healing, comfort, and efficiencies. "Inpatient admissions have increased by more than 12 percent in the current year compared with the prior one, with the Tower being a primary impetus," he said.
"We are proud to be selected as part of the team that helped MultiCare Good Samaritan Hospital win this prestigious award," said Doug Perkins, vice president of Advanced Pneumatic Tubes. "Their new tower is a model for other hospitals around the country. It is evidence that with the right team of in-house personnel, architects, contractors and suppliers guided by commitment and a common vision, new construction and facility expansions can indeed come in under budget and ahead of schedule."
About Pevco
Pevco designs, manufactures, installs and supports hospital pneumatic tube systems that enable healthcare professionals to quickly, safely and reliably transport patient-critical materials between labs, pharmacies, blood banks, ORs, EDs and nursing stations. Used by more than 600 leading hospitals, Pevco's flexible, intelligent products consistently reduce operating costs and are compatible with all competing pneumatic tube systems. Pevco was founded in 1978 and is headquartered in Baltimore, with support staff positioned throughout North America. To learn more, visit http://www.pevco.com.
About Advanced Pneumatic Tubes
Advanced Pneumatic Tubes, Inc. designs, installs, and supports pneumatic tube systems specialized for healthcare facilities. Representing Pevco as the sole distributor to the Western United States, Advanced Pneumatic Tubes provides intelligent Pevco systems that are reliable, flexible, safe and efficient. To learn more, visit http://www.aptubes.com.