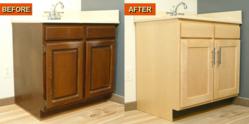 Cabinet re-facing with real wood veneer is a relatively quick and easy process which requires no demolition, meaning your kitchen remains functional until complete.
Sterling Heights, MI (PRWEB) April 03, 2013
Spring is a great time to take on a home project and the kitchen is the perfect place to start. A recent survey conducted by Remodeling Magazine shows that a minor kitchen remodeling project may return 120% of its cost when the home is sold, making it the biggest return of all home improvement investments.
WiseWood Veneer now offers cabinet re-facing kits and replacement doors with everything needed to transform outdated kitchen cabinets into that dream kitchen for a fraction of the cost. It is estimated that the average cost for new custom kitchen cabinets is $25,000 to $30,000 but with one of WiseWood's cabinet kits and a little elbow grease, the result will be beautiful cabinets for significantly less.
"A complete tear out and reinstallation of new cabinets is a lengthy, expensive process that will cause disruption in your household for weeks. Older cabinets are sometimes built better than new cabinets and may still be structurally sound; so it doesn't make sense to start from scratch. Re-facing your existing cabinets helps the environment by reducing landfill waste and is a great way to give new life to your outdated cabinets and transform them into a fresh new look" says Christine Yarbrough, WiseWood Veneer's vice president. "Cabinet re-facing with real wood veneer is a relatively quick and easy process which requires no demolition, meaning your kitchen remains functional until complete".
The cabinet kits come in four different sizes and include:

Choice of wood veneer species
Pre-glued wood veneer edgebanding of the same species
A knife to cut the veneer and edgebanding
A veneer scraper
A cork sanding block
Tack cloth
120, 150 and 180 grit sandpaper
Detailed step by step instructions
"Our customers have shown us through explosive sales that our 3M self-adhesive wood veneer is the favorite product for homeowners and 'DIYers'. We've listened and decided to offer this complete cabinet kit to make purchasing even easier. Nowhere else in the marketplace do you have the convenience of purchasing the veneer, necessary tools and even replacement cabinet doors all at once, purchasing literally could not be easier. The kits aren't only for re-facing kitchen cabinets, they're perfect for bathroom vanities or any other cabinets that need updating" said Yarbrough. "We are very excited to offer this inclusive package and are eager to hear our customer's success stories" adds Yarbrough.
Nothing compares to the richness and warmth of wood, it is by far the most popular choice for kitchen cabinets. Whether it's classic Maple, a more rustic look like Hickory or even the newest trend Bamboo, WiseWood Veneer has something for everyone. Visit WiseWood's veneer sample gallery at http://www.wisewoodveneer.com/cabinetrefacingkits.html to see the wide variety of species to choose from.
WiseWood Veneer Company is a leading supplier of fine wood veneer and edgebanding offering domestic and exotic wood veneer from the United States and around the world. Located in Sterling Heights, Michigan WiseWood Veneer offers the highest quality flexible wood veneers, architectural panels and edgebanding to furniture makers, cabinet shops and do-it-yourselfers around the country.
Visit http://www.wisewoodveneer.com/index.html or call 855-883-6337 (855.8VENEER) for more info.
Contact:
Christine Yarbrough, Vice President WiseWood Veneer
Phone: 855.883.6337
http://www.wisewoodveneer.com
###