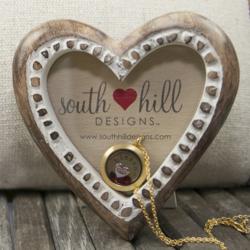 Scottsdale, AZ (PRWEB) April 03, 2013
South Hill Designs, officially launched on February 25th, is now ranked as the number 2 "top trending" party plan by the respected Home Party Rankings website. More remarkably, MLM Rankings places the company number 4 among "top gainers" in the entire network marketing industry. Both independent websites measure public interest by tracking online activity that is resistant to external manipulation.
Operating in all 50 states and Puerto Rico, the company has surpassed the 1,000 mark in active distributors (known as "Artists") and has just celebrated its 10,000th product sale. All this in five weeks since official launch.
CEO Brian Palmer attributes the rapid growth of South Hill Designs to four factors: "We have a simple product concept that wins instant customer acceptance; we have a compensation plan that generously rewards profitable activity; we are passionate about constant innovation; and most importantly, we have exceptional customer support."
South Hill Designs produces lockets, chains, charms and droplets that women can "mix and match" to create one-of-a-kind jewelry pieces. Customers can then wear jewelry that celebrates their personal loyalties, hobbies and loved ones.
To support the theme of innovation, Palmer cites a constant outpouring of additions to the company's jewelry catalog. New charms released in the past week include a coffee cup, roller-skate, sunglasses, guitar, individual gold letters and numbers, and the word "FAITH."
"The wider our product choices, the more creative our customers can be as they assemble their personal jewelry pieces," explains Director of Design, Tamara Ochoa. "For example, we've just launched a new concept we call 'Screens'. These are stencil-like pieces that show the fabric you are wearing through the cutout shape. We're also getting lots of attention for our new Rose Gold Mini locket."
South Hill Designs continues to capture the attention of the online world through their growing presence in social media. Meanwhile, says Palmer, "The core of our business remains the same: fun social events where friends can gather to share their stories, laugh together, and create the jewelry that best expresses who they are."