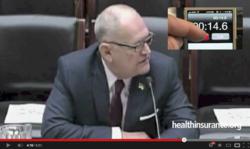 ... premiums have become unaffordable not because of health care reform but because insurers have been able to get away with raising rates as high as necessary to meet profits expected by board members, shareholders and Wall Street financial analysts
(PRWEB) April 02, 2013
Health insurance industry whistleblower Wendell Potter says he's ready to get to the bottom of claims that small businesses have already been hurt financially by the Affordable Care Act.
Potter, author of the best-selling book Deadly Spin – a chronicle of health insurance industry abuses – recently testified in a U.S. House hearing convened to look at how Obamacare has impacted the affordability of health coverage in the United States. During the hearing, Potter says, he was alarmed by comments from Rep. Marsha Blackburn, who expressed concerns about rising premiums for employers in her home state of Tennessee.
Rep. Blackburn was allotted five minutes during the hearing to question Potter, but ended up talking for all but about 20 seconds. View Rep. Blackburn's questions for Potter here.
Potter – a healthinsurance.org contributor– wrote that "rather than asking me to share my knowledge of industry practices that have led to steep year-after-year premium increases for thousands of employers, Rep. Blackburn instead used most of her time to read a list of business owners in her district she said had written to her complaining of recent rate increases she maintained were caused by Obamacare."
As a former insurance industry executive who still maintains ties to the industry, Potter says he's skeptical of the claims by Rep. Blackburn. Health insurance companies have been hiking the premiums they charge small businesses for years – long before the Affordable Care Act became law," Potter wrote in a March 28 blog post at healthinsurance.org.
"Insurance premiums have become unaffordable not because of health care reform but because insurers have been able to get away with raising rates as high as necessary to meet profits expected by board members, shareholders and Wall Street financial analysts," Potter wrote. He also noted that the industry has launched a major campaign to cast blame on the health reform law for those increases.
Potter says he isn't automatically doubting the sincerity of the lawmaker's constituents. "As Rep. Blackburn was reading the list, I couldn't help but think that some, if not most, of the people who had written her had deliberately – and erroneously – been led to believe that their premiums increased this year solely because of Obamacare."
Now, Potter has extended an offer to Rep. Blackburn to help investigate those claims. In a March 25 letter to Rep. Blackburn, the former insurance executive offered to help the Tennessee lawmaker determine whether Obamacare was, in fact, responsible for the rate increases in her district.
"My hope is that she will accept my sincere offer to talk with those businesses one on one and get to the bottom of the rate increases that are hurting their profitability," Potter says. "We could get a much clearer sense of whether specific provisions of the Affordable Care Act contributed to the rate increases and how much, if any, of the rate increases could be directly attributed to the law."
At the same time, Potter said, the interaction would give him an opportunity to determine whether Blackburn's constituents are aware of provisions in the law that would make it more affordable for them to provide coverage.
"It would be interesting to learn if Rep. Blackburn or anyone else has told the small business owners that they might qualify for tax credits – made available through Obamacare – if they offer coverage to their employees," Potter wrote. "Thousands of employers are now paying less for coverage, and many others are offering health insurance for the first time, thanks to those Obamacare tax credits."
Last week, Potter got confirmation that Rep. Blackburn has received his letter, but has yet to learn whether she will accept his offer to talk with her constituents.
# # #
Online since 1994, the Health Insurance Resource Center is a consumer guide to information about affordable individual health insurance and medical insurance for families and the self-employed. The site includes news and opinion articles from respected health care writers and health policy experts discussing insurance coverage and the impact of the Affordable Care Act. Sections include a high-risk insurance pool guide, guides to state-specific health insurance resources, a special section devoted to state health insurance exchanges, a health insurance glossary, a directory of consumer insurance resources, a collection of Frequently Asked Questions about health insurance, and access to free online health insurance quotes.