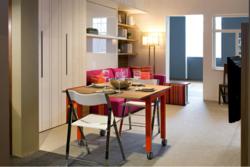 New York, NY (PRWEB) April 02, 2013
Citizens Housing & Planning Council (CHPC), a non-profit research and education organization, announces a fundraising raffle event offering a once-in-a-lifetime New York City museum experience.
The winner of "Making Room . . . For Dinner" and three friends, will be granted exclusive after-hours access to the Making Room: New Models for Housing New Yorkers exhibition in the third floor gallery of the Museum of the City of New York (MCNY) which will become their own private dining room.
Executive Chef Chris Bradley of Untitled at the Whitney, a Union Square Hospitality Group restaurant, will prepare and serve the guests in the 325 square foot "LaunchPad" micro-apartment that is the centerpiece of this hugely popular New York City exhibition.
A three-course meal plus wine will be enjoyed among the many of transforming elements of this showcase micro-apartment. The kitchen is made in Italy by Key Cucine, and features a four-person dining table that folds away to store under the kitchen counter when not in use. The folding dining chairs hang on a wall bracket and require only 6" of space. The couch becomes a bed in 10 seconds. There is a hidden bar behind a sliding TV panel. The entire apartment morphs to fit the occupant's needs throughout the course of the day.
LaunchPad was built by Clei s.r.l and Resource Furniture, with interior design by architect Pierliuigi Colombo.
The dinner will take place on April 25, 2013 from 7:00 – 10:00 p.m. The winner will be announced on April 18, 2013.
Raffle tickets are $10 each or three for $25 and are available through Eventbrite at makingroomfordinner.eventbrite.com
All proceeds benefit Citizens Housing & Planning Council, a 501c(3) organization.
###
About CHPC
CHPC's mission, since 1937, is to advance practical public policies by better understanding New York City's most pressing housing and neighborhood needs across the five boroughs. CHPC is a Council of leading professionals from every industry that shape the residential built environment who share the conviction that by working together we can promote solutions for the long-term progress of the city. CHPC speaks as a trusted and impartial voice to improve housing for all New Yorkers. chpcny.org
About Untitled
Located at the Whitney Museum of American Art, Untitled is a new restaurant from Danny Meyer's Union Square Hospitality Group, offering a contemporary, farm-to-table take on the classic Manhattan coffee shop and the seasonal comfort food of Executive Chef Chris Bradley. Untitled serves an all-day menu that features updates on coffee shop classics, all made with carefully sourced, local ingredients. Designed by Rockwell Group, the restaurant is located on the lower level of the Museum and is accessible both to Museum visitors and non-museum guests. untitledatthewhitney.com
About MCNY
Founded in 1923 as a private, nonprofit corporation, the Museum of the City of New York celebrates and interprets the city, educating the public about its distinctive character, especially its heritage of diversity, opportunity, and perpetual transformation. The Museum connects the past, present, and future of New York City, and serves the people of the city as well as visitors from around the world through exhibitions, school and public programs, publications, and collections. mcny.org
About Resource Furniture and Clet
Resource Furniture and Clet are proud sponsors of Making Room: New Models for Housing New Yorkers. The exhibition features a fully-realized 325 square-foot micro apartment built by Resource Furniture and Clei. Resource Furniture has also recently been featured in The New York Times, The Wall Street Journal, Dwell, Forbes, CBS News and New York Magazine among many others. Resource Furniture has built a global network of showrooms offering a range of top-selling luxury European furniture that push the limits of technology and design. resourcefurniture.com
Clei s.r.l. , based in Italy, has been fusing high design, innovation and patented technology since 1962. Their modern and easy to use transforming wall bed systems are the result of a company philosophy with strong emphasis on research, creativity, and engineering, with fully integrated, modular sleeping, storage, seating, and working solutions. Clei systems are available in North America exclusively at Resource Furniture.
About KEY Cucine
KEY Cucine is a family company established over 50 years ago by the Sbabo family. Great attention is paid to design and respect for the environment and health of end-users. KEY Cucine was a pioneer in the use of formaldehyde-emission free panels. Flexibility in tailoring the kitchen to customer's specific requirements and wide choice of materials available are other distinctive characteristics of this innovative company. keysbabo.com
Making Room: New Models for Housing New Yorkers is organized by Donald Albrecht, Curator of Architecture and Design, and Andrea Renner, Andrew W. Mellon Post-Doctoral Curatorial Fellow at the Museum. Jerilyn Perine and Sarah Watson, of Citizen Housing & Planning Council, provided the primary research content underlying this exhibition. The exhibition installation is designed by Pure + Applied. New York City Planning Commission Chair Amanda Burden and New York City Department of Housing Preservation and Development Commissioner Matt Wambua are the show's honorary co-chairs.
Photos courtesy of the Museum of the City of New York.
Contact Information
CHPC
Sarah Watson
Deputy Director
212-286-9211 (ext 116)
swatson(at)chpcny(dot)org
Union Square Hospitality Group
Kristine Ku
PR & Marketing Manager
646.747.7227
kku(at)ushgnyc(dot)com
Resource Furniture
Lisa Blecker
Director of Marketing
212-753-2039
lisa(at)resourcefurniture(dot)com