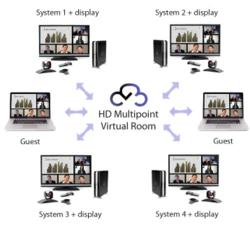 Customers don't need to commit to the full lifecycle of any new product, nor make large upfront investments in endpoints, or infrastructure. It's a no brainer; the entire environment is basically future proof.
Reading, Berkshire (PRWEB UK) 4 April 2013
VideoCentric, the UK's leading Video Conferencing Integrator, was today recognised as a "game changer" in the video conferencing industry by offering low cost 'pay-monthly' bundles for each of the worlds' leading video collaboration vendors, including Cisco, LifeSize, Polycom and RADVISION (Avaya). The bundles include a quantity of video conferencing endpoints, a HD Virtual Meeting Room with multipoint conferencing for up to 4,6,9 or 25 participants and award-winning maintenance & support.
VideoCentric's VideoCloud(TM) bundles allow customers to spread total costs, including VAT, over 3 years, enabling an instant Return on Investment with tangible savings outweighing outgoing costs, even in the first month. VideoCentric will also offer the option of technology trade-in and refresh at the end of the contract term to ensure that customer's endpoints are kept up to date and aligned with infrastructure technology, which of course, is automatically and regularly updated throughout the life of the subscription period.
As an end-to-end solution integrator, VideoCentric is also offering the ability to include all associated services and accessories required into the bundles. This not only includes additional VideoCloud(TM) services such as Recording and Streaming services, ISDN, Skype and Lync Connectivity, Monitoring and Management, but also installation and training, bandwidth rental, LCD/Plasma displays, touch panel controllers and even brackets, trolleys and mounts.
VideoCentric is confident that its VideoCloud(TM) bundles will be greatly welcomed by customers, particularly SMEs, who have previously struggled to adopt video communications across their organisation. One customer commented, "In the past we have only had the budget for one or two systems at a time, and this means adoption across our organisation has been low. With these new VideoCloud(TM) bundles, video communications can be seen as an operational expense and so adoption will be much higher, therefore the benefits of using video across our organisation will be recognised by everyone".
VideoCentric's VideoCloud(TM) bundles are available now and add to their ever growing VideoCloud(TM) Portfolio, the most comprehensive portfolio of cloud based video services available on the market today. All bundles are available for demonstration in the UK's most comprehensive video collaboration Demonstration & Interoperability Suites.