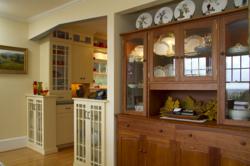 "This home was prime for energy-efficiency upgrades which will make the home more comfortable to live in, and also offer energy savings," adds Karen.
Portland, Oregon (PRWEB) April 03, 2013
Neil Kelly Company, known for its innovative design and quality craftsmanship, has completed more than 30,000 home construction and remodeling projects. Karen Richmond, a master certified kitchen and bath designer with Neil Kelly Company, specializes in historic home preservation and is featured in the current issue of Old-House Journal.
Richmand recently worked with the Drake family in Scapoose, Oregon to carefully restore the charm of a 1927 Arts & Crafts farmhouse. Respecting the home's age, the Neil Kelly designer focused on using era-appropriate materials like stained-glass windows, salvaged fir, and reclaimed cabinetry. "We brought back the period-specific details that had been stripped throughout the years," states Karen.
The Drakes loved the historic charm of the early 1900's, but like many homeowners they wanted modern conveniences and energy savings. Starting with a home energy audit, Karen and her team brought the home's systems up to date including sealing and insulation, efficient water heater and furnace and low-flow toilets. "This home was prime for energy-efficiency upgrades which will make the home more comfortable to live in, and also offer energy savings," adds Karen.
Remodeling Historic Homes: 4 Tips
Like the Drakes, many people appreciate and want to preserve the architecture of their home, whether it's a mid-century ranch, Victorian or early 1900's Craftsman. Historic home designer, Karen Richmond, provides the following remodeling tips:
Tip #1
Add period-authentic touches: Using reproduction materials is a great way to add modern convenience with a period appropriate look.
-- Reproduction Refrigerators: Mimic a mid-century look with rounded tops and period-authentic colors with a self-defrosting freezer.
-- Disguise Appliances: Hide the microwave behind a lift up door or fully integrate refrigerators and dishwashers to look like cabinetry.
-- Bath Exhaust Fans: Available with an old fashioned grille fitting for any period home.
Faucets: Period looking faucets offer mixing valves with thermostatic balancing to prevent scalding.
Tip #2
Go Green: Restore the original "fabric" of a home. Leave original wood windows made of old growth lumber and wavy window glass and add storm panels for added energy efficiency. In the Pacific Northwest, vintage and recycled materials can be found at: Hippo Hardware, Rejuvenation, Rebuilding Center, and Old Portland Hardware.
Tip #3
Fine Details: Ask design/build partners to honor period details inside and out by replicating existing door and window trims, base, crown, and picture molding. Also match the exterior details including exposed rafter tails and proper roof overhangs.
Tip #4
Attend a home preservation fair, event or seminar: Many cities have historic home societies that offer great educational opportunities. In the Pacific Northwest, historic home resources include Historic Seattle and Architectural Heritage Center.
About Karen Richmond, CAPS
Karen Richmond is a Master Certified Kitchen and Bath Designer, a Certified Green Professional and has earned certification as a CAPS specialist in universal access design. During her 30 years in design, she has won national and regional awards, including the Architectural Heritage Center's "Preservation in Action Award" for the Legacy House project, a restoration of an historic 1928 Portland home.
About Neil Kelly Company
The Neil Kelly Company helps Northwest homeowners care for all aspects of their homes. Services include award-winning design-build remodeling; energy upgrades and home repairs big and small. Established in 1947, the firm has a national reputation for its innovative design-build remodeling and new home construction.
With five Pacific Northwest locations in Portland, Lake Oswego, Eugene, Bend and Seattle, Neil Kelly is renowned for its innovative design and remodeling services, quality craftsmanship and sustainable building practices. Homeowners are invited to visit Neil Kelly design centers or attend free educational workshops. Visit http://www.neilkelly.com.