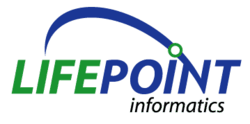 Where performance and reliability meet.
Glen, Rock, NJ (PRWEB) April 04, 2013
Bringing more industry knowledge to the Clinical Laboratory Management Association's annual KnowledgeLab conference April 7-10, Lifepoint Informatics, a leader in health IT, will join the annual discussion on laboratory leadership.
Held at the Caribe Royale All-Suite Hotel in Orlando, Fla., KnowledgeLab brings together leaders and decision makers from hospitals, government organizations and academic laboratories while offering education, networking and presentations designed for laboratory leaders. Lifepoint Informatics will be exhibiting its information technology solutions designed to improve patient care and lower costs at booth 330.
"With a dedicated focus on healthcare quality and innovation, we always enjoy joining the discussion of the latest topics and knowledge with other leaders throughout the industry," said William Seay, CEO, Lifepoint Informatics. "We are excited to share some of our efficient, user-friendly and cost-effective IT solutions for healthcare at booth 330."
Special topics at KnowledgeLab this year include Fundamentals of Laboratory Leadership, Ensuring Sustainability: How to Succeed in a Changing World, Project Management Tools to Enhance Healthcare, Digital Pathology, Laboratory Service Line Structure and Strategies for the Future, Surfing for Technology with a Return on Investment Approach, Employee Engagement, the Business of Affordable Care in 2013 and many more.
Founded in 1976, the Clinical Laboratory Management Association (CLMA) is an international association of nearly 3,000 clinical laboratory professionals. CLMA provides leadership in the clinical laboratory industry supporting laboratory professionals at any stage of their career. The association educates and advocates on behalf of members, and plays a leadership role in enhancing the image and increasing the visibility of the laboratory management profession.
Lifepoint Informatics' mission is to help healthcare providers improve patient care and lower costs through the use of information technology by enabling customers to integrate disparate healthcare information systems and improve the communication, accuracy and flow of clinical information. Lifepoint's solutions can improve the quality of patient care at a reduced cost, achieving positive return on investment.
"New knowledge has changed the shape of the healthcare industry, particularly when it comes to IT innovation, and we've enjoyed being at the forefront of helping labs and hospitals connect more easily with physicians and providers," Seay added.
About Lifepoint Informatics
Lifepoint Informatics is a leader in healthcare IT focusing on laboratory outreach connectivity, health information exchange and clinical data interoperability to help healthcare providers improve patient care and lower costs through the use of information technology. Since 1999, Lifepoint Informatics has enabled more than 200 hospitals, clinical labs and anatomic pathology groups to grow their market share and extend their outreach programs through the deployment of its ONC-ATCB certified Web Provider Portal and its comprehensive portfolio of ready-to-go EMR and EHR interfaces. For more information, please visit http://www.lifepoint.com.