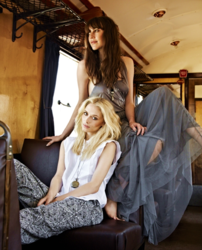 We are always excited to offer our customers special promotions. It's all about the customer service, their online shopping experience and their product satisfaction.
Toronto, Canada (PRWEB) April 04, 2013
Apricot Collection which is known for carrying a range of unique fashion brands, is now offering three special promotions starting April 4, 2013.
Apricot Collection, which is based in Canada, has so far offered shipping at no cost nationwide, but starting Thursday, April 4th, it will also allow the US customers to enjoy free shipping on every order over $80. To redeem this amazing promotion, US customers are asked to use the coupon code ShipUS.
The unique online women's clothing store is also having a huge inventory sale with 85% off all winter merchandise. Some of the remaining styles are eternal classics like the pencil skirts or the tweed jacket, while some are trends which we'll continue seeing next winter, such as: bulky cardigans or black & white styles.
The most exciting new promo is the 10% off on the new spring collection. Introduced to the public just a few weeks ago and already the new unique items are offered at 10% off. Check out all this beautiful season's interesting styles and get it while you can. From hot spring's colors as coral, emerald and pink to the high-low element seen on dresses, tops and more. Customers who wish to use this option, are asked to use promo code: Style10.
Take advantage of these offers while quantities last – you could get spring & winter ready now and enjoy the free shipping offer.
About Apricot Collection:
Apricot Collection is a Canadian based online company which came to life after Michelle Herscu, founder & owner, decided to combine her love to fashion with her love to business. She always felt like the market wasn't offering enough and online stores usually target one audience, whether it's young girls or just a specific style. That's why today she's always looking for new brands to add to the collection and each piece represents a different style for various occasions. Another element that's important to her is to ensure quality is never compromised.
Whether it's classic-chic, feminine, bohemian or vintage style you're looking for, Apricot Collection offers them all, and as time progresses, the company adds more brands and new styles.