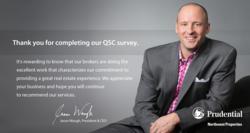 I'm very proud of the exceptional service ratings we earn. It speaks to the caliber of professional brokers that represent Prudential Northwest Properties.
Portland, OR (PRWEB) April 08, 2013
Prudential Northwest Properties' reputation is built on delivering exceptional client service. Since its founding in 1948, service excellence has been a top priority.
In 2005, the company partnered with Quality Service Certification, Inc. and began issuing written service guarantees to its clients and asking them to rate their experience through independently administered third party surveys.
Over the last eight years, Prudential Northwest Properties has consistently received exceptional ratings for service from the people who matter most -- their clients.
Well before online review sites and public recommendations and referrals became the norm, the company began asking their clients for feedback about the quality of service they received from their real estate broker and the overall satisfaction they experienced during the transaction process with the company.
Through Quality Service Certification, Inc., an independent research company surveys each client after the close of their transaction. The unedited survey responses are validated and tabulated by Leading Research Company and used to determine ratings ranging from 1 (very dissatisfied) to 5 (very satisfied). Those client-generated Customer Satisfaction Ratings are then posted online for the world to see.
In the last three years alone, 2,566 client surveys have been returned and tabulated to reflect an overall rating of 4.82 out of a possible 5.0 for Prudential Northwest Properties brokers, earning the company a Platinum rating, which is the highest level of service achievement in the industry.
"We pride ourselves on giving the best possible service to our clients, and I think asking them directly for feedback is the best way to monitor our service delivery," says Jason Waugh, President and CEO of Prudential Northwest Properties. "If someone is less than pleased with their experience with our company, I want to know about it. Conversely, if a client raves about great service, which is usually the case, I like to hear about that too. I'm very proud of the exceptional service ratings we consistently earn. It speaks to the caliber of professional brokers that represent Prudential Northwest Properties."
The company is known for service excellence, and was an annual recipient of the QSC Quality Excellence Award, which recognized the Top 10 brokerages in North America with the highest client service ratings, until Quality Service Certification, Inc. stopped issuing the award in 2011.
At Prudential Northwest Properties, providing exceptional service and integrity-driven professional representation are top priorities. To see our client satisfaction ratings, please visit http://www.QualityService.org.
About Prudential Northwest Properties:
Founded in 1948, Portland-based Prudential Northwest Properties is a proud member of HomeServices of America, Inc., a Berkshire Hathaway affiliate, and a flagship franchisee of the Prudential Real Estate and Relocation Services network. Recognized as a market leader and one of the most progressive real estate firms in the nation, the company is one of the largest home service providers in the Pacific Northwest. The company ranks as one of the top brokerages in North America in delivering client satisfaction, based on independently measured client feedback. It was voted one of Oregon's Top Workplaces, and is also a Corporate Philanthropy Award recipient, named one of the five most generous medium-sized companies in Oregon. Prudential Northwest Properties is one of a select number of brokerages invited to join the new Berkshire Hathaway HomeServices real estate brand when it launches in 2013. To learn more, please visit http://www.prunw.com.
###