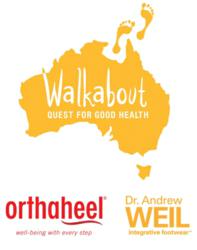 Walking for just thirty minutes daily can help manage weight, lower blood pressure and improve circulation. -Phillip Vasyli, podiatrist and founder of Orthaheel and the Vasyli footwear brands.
San Rafael, CA (PRWEB) April 03, 2013
Put your best foot forward on National Walking Day, April 3rd and throughout Foot Health Awareness Month by participating in Orthaheel and Dr. Weil Integrative Footwear's 2nd annual Walkabout campaign. Lead by brand ambassador Juliet Kaska of JK Zen Fitness, Walkabout participants have committed to walk thirty minutes a day to attain physical and emotional health and wellbeing. The first of the campaign's 28 days officially kicks off today, and participants will receive bi-weekly email encouragement, foot care tips and the chance to win prizes.
Whether walking to and from work, leisurely strolling along the same path each morning, heading to the park to walk the dog, or meeting friends to walk for fun, the Walkabout campaign encourages all Americans to get out and get moving through walking.
"Walking for just thirty minutes daily can help manage weight, lower blood pressure and improve circulation – all particularly important in preventing chronic health problems such as obesity and diabetes," said Phillip Vasyli, podiatrist and founder of Orthaheel and the Vasyli footwear brands. "As with any walking program or exercise regime, it's imperative to put the spotlight on foot health and pain prevention. Most foot and ankle problems can be alleviated or prevented by simply by paying the proper attention to and care of our feet."
Feet are our body's connection to the earth. Unsurprisingly, feet are the most utilized part of our bodies and yet they are the most neglected.
Keep your feet pain and problem-free for the duration of the Walkabout and April's Foot Health Awareness Month with easy tips from Australian Podiatrist, Phillip Vasyli:

Wash Regularly: Use a lukewarm mild soapy solution to wash your feet and dry them with a clean towel.
Dry toe-area: When drying wet feet, pay special attention between the toes to prevent the growth of unwanted bacteria.
Scrub: Regular scrubbing of the feet, particularly the heels, is important as it removes dead skin cells. After soaking feet in warm water, use a pumice stone or foot file to gently smooth calluses and rough patches.
Trim: Trim toenails once a week and be sure to cut the nails straight across to avoid painful ingrown toenails.
Use sunscreen: Don't forget to apply sunscreen on your feet. Like your face, your feet too, need protection from the sun's rays.
Moisturize: You need a moisturizer with deep penetrating properties to help keep the skin supple and your soles soft.
Stretch: Keep your blood circulating by taking the time to periodically point and flex your toes. Don't forget to stretch your calves which will help keep the Achilles tendons and the plantar fascia from getting tight.
Choose: Select the proper supportive footwear for your physical activity.
It's important to invest in a good pair of shoes or walking-friendly sandals that are breathable, offer good arch support, are relatively lightweight and have flexible soles to allow the front of the foot to flex comfortably. Aches and discomfort such as heel, knee and back pain, can often hinder the public from starting a walking program. In fact, an astounding 72% of Americans say they don't exercise because foot pain prevents them from doing so. Weil Integrative Footwear provides a simple solution to these painful problems. In particular, the Weil Rhythm Walker features a removable orthotic footbed that supports the feet and helps realign the lower-legs, improving posture and balance – an ideal option for daily walking.
For more information about the Walkabout, visit: http://www.orthaheelusa.com/walkabout
Join the conversation on Twitter and tag images on Instagram #Walkabout2013.
# # #
About Weil Integrative Footwear
The Weil Integrative Footwear Collection is created in collaboration with Vasyli LLC, whose founder, Australian podiatrist Phillip Vasyli, is among the worlds leading producers of orthotics. The line's primary styles include sandals and casual and walking shoes for women. Each design incorporates the proprietary AMS Aided Motion System footbed technology developed by Vasyli.
The Weil Integrative Footwear collection ranges in price from $66.95 to $159.95 and is available at Dillard's and select retailers across North America. For more information and to view informative videos on the health benefits of walking and the Weil Integrative Footwear, please visit http://www.weilbeing.com.
Dr. Weil donates all of his after-tax profits from the sale of the Weil Integrative Footwear products directly to the Weil Foundation, a not-for-profit organization dedicated to supporting integrative medicine through training and research.
About Orthaheel
Australian Podiatrist, Phillip Vasyli introduced the award-winning Orthaheel brand in 1991 in order to reach an even larger audience of people struggling with heel, knee, leg and lower back pain. Guided by "think tank" advisors, new technologies in Vasyli Medical orthotics will continue to provide the foundation for the Orthaheel brand. In addition to orthotics, Orthaheel's unique technology is a built-in staple for its collection of shoes, sandals and slippers.
Orthaheel offers the only sandals recommended by both the American Podiatric Medical Association (APMA) and America's leading wellness doctor, Andrew Weil, MD. Invented by Australian podiatrist Phillip J. Vasyli, Orthaheel offers shoes and orthotics for women and men with unique technology that is clinically shown to reduce over-pronation, which can improve foot function and relieve associated pain.
For more information and to view informative articles written by Phillip Vasyli, please visit http://www.orthaheelusa.com. The line ranges in retail price from $59.95 to $99.95 and is available at zappos.com, Footsmart.com and select retailers across North America.
About Juliet Kaska
Juliet Kaska, creator of JK Zen Fitness is one of the country's leading fitness experts and entrepreneurs. For more than a decade Kaska has trained numerous Hollywood stars; has consulted and been featured in countless media outlets; and has launched fitness studios and training programs throughout Los Angeles. In 2010, Kaska created JK Zen Fitness, which includes the revered JK Zen Fitness Pilates Studio that is quickly becoming the most sought after boutique studio in Los Angeles. Kaska is trained and certified in multiple disciplines making her workout programs both diverse and innovative. Her certifications include a Second Generation Master Pilates Teacher; a duel-certified personal trainer from American Council on Exercise and the National Academy of Sports Medicine; and a trained Yoga teacher by Yoga guru Dharma Mittra.
For more information please visit: http://www.jkzenfitness.com, and like us on Facebook https://www.facebook.com/julietkaskafitness or follow us on Twitter http://twitter.com/JulietKaska.