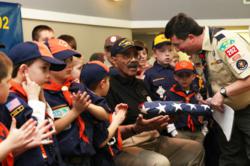 "It's just unbelievable," says Seagraves. "I'm just lost for words and I'm so excited that they invited me here. I feel very proud."
CARY, NC (PRWEB) April 04, 2013
African-American WWII hero John Seagraves was honored earlier this month by Cub Scouts of America Pack 202 with a ceremonial flag in honor of his service to America. The event took place at St. Francis United Methodist Church in Cary, NC.
The Cub Scout pack surrounded Seagraves as he engaged with the kids, and they presented him with a ceremonial flag that recently flew aboard the battleship.The 86-year old Steward's Mate Second Class (Ret.) John Seagraves served on Battleship North Carolina from May1944 until his honorable discharge after the conclusion of WWII in December 1945. Seagraves will forever be known as the gunner who shot down the kamikaze that narrowly missed the most decorated battleship during the Pacific War, saving hundreds of his shipmates' lives and the legacy of the legendary ship.
"It's just unbelievable," says Seagraves regarding the event for his dedicated service. "I'm just lost for words and I'm so excited that they invited me here. I feel very proud."
Over 30 Cub Scouts presented the flag, while their parents, Pack leaders, and Seagraves family members looked on. Jace Holthaus, a 7-year old Cub Scout proudly handed the flag to Seagraves, saying a few words the youngster had memorized.
Steve Lucovsky, Cubmaster of Pack 202, organized the event to build character in his 6-10 year old Cub Scouts. His young apprentices learn through the Scout Oath that they have a duty to God and country. Through community service projects, meeting everyday heroes, and activities centered on learning citizenship, Cub Scouts are able to develop and practice their duty.
Honoring a WWII veteran with a "Hero's Welcome" provides a vehicle for the leaders to pass on, through a special ceremony, life lessons from the Greatest Generation to today's generation.The Cubmaster felt Seagraves offered a rare opportunity to teach the boys about the values needed to persevere through difficult times.
John Seagraves has been passionately dedicated to extraordinary food service for over six decades, currently operating John's Fine Food outside Atlanta in Forest Park, GA since September 1988. He and his wife Mildred have owned successful restaurant and food service contracts in Boston dating back to 1960, and Atlanta since 1980. John is a Griffin, GA native, who honorably served in the U.S. Navy during WWII before raising a family in the Boston area.