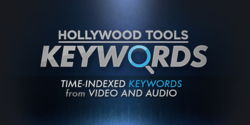 Los Angeles, California (PRWEB) April 04, 2013
Southern California based Hollywood Tools, LLC, maker of software tools for maximizing the value of audio-video assets, including storing, automatically transcribing and automatically generating keyword search and access data, has sued Colorado-based Levels Beyond,Inc.
According to the Complaint filed in Los Angeles County Superior Court (Case Number BC504338), Levels Beyond entered into a confidentiality agreement in order to explore a deal to use Hollywood Tools' innovative software capabilities in its own software suite. Once gaining access to Hollywood Tools' trade secret technology, the complaint alleges, Levels began implementing a plan to misappropriate the secret technology, and lured away a key software employee to facilitate its efforts.
Hollywood Tools' CEO Luis Pelayo stated, "It's unfortunate that we have to seek the court's involvement to protect our property and rights from what we consider to be actions that are not only wrongful, but also dishonest and grossly lacking in integrity."
Both companies will be exhibiting at the @NABshow in Las Vegas April 8-11.
A Copy of Hollywood Tools' complaint can be found at http://www.l2digital.com/htcomp.pdf