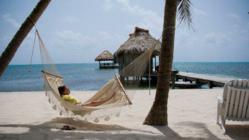 Guests just need to mention that they're here for the Summer of Love and we'll make sure the staff know to provide that extra touch and a few surprise treats we're giving our summertime lovers.
(PRWEB) April 03, 2013
Now in its third year, Belize's Summer of Love (SOL) is expanding in scope with two more luxury eco resorts joining in the celebrations, according to The Lodge at Chaa Creek's marketing administrator Larry Waight, who announced that 2013 would also see an early start to the summertime activities.
"Even though summer is still a couple of months away, we're already planning another magic Summer of Love. The last two were such a success, and now with some very special colleagues taking part, we decided to start early and to make the most of it this year," he said.
Mr Waight explained that the Summer of Love program was conceived as a way to encourage more people to spend more time with their loved ones over the summer by taking part in a range of exciting yet affordable adventure activities.
"We think that everyone can use a little more love in their lives, whether among family, couples, good friends and even individuals who want to immerse themselves in adventure and stunning natural beauty. We see time and again how sharing new experiences and participating in adventure brings people closer together," Mr Waight said, "And that's what the Summer of Love is all about."
To encourage people to spend more quality time together, Chaa Creek is offering significant discounts on rooms and packages along with other incentives starting from now until July 31st, with more SoL initiatives to be announced, Mr Waight said.
And this year, for the first time, two Belize Caribbean eco resorts are joining in.
"Chabil Mar Villas and Hatchet Caye resort are joining Chaa Creek to help spread the love by discounting the entire "Moveable Feast" all-inclusive deluxe Belize vacation package by 10% for the entire month of June." Mr Waight said. "This means that Belize's most luxurious vacation package, which takes travellers on an epicurean journey from the ancient Maya cities and pristine rainforests of Belize's interior to the white beaches of the Caribbean coast and Belize Great Barrier Reef, can be had for the price of more mundane holiday packages offering far less."
Mr Waight added that Chaa Creek is also kicking off the Summer of Love early by offering 15% discounts off of all accommodation from April 7 to May 31 this year. "Fox News recently chose Belize as one of the world's best spring break values, and we just made it even better with our early SoL discounts. That's what the SoL is all about – creating enjoyable, affordable experiences that allow people to really relax and bring out the best in each other," Mr Waight said.
Other early bird SoL specials include a 10% discount off the "Belize Swim Suits and Hiking Boots" rainforest-to- Caribbean coast all-inclusive Belize vacation package for the entire month of May. Presented by Chaa Creek and Chabil Mar, the comprehensive package takes guests from the ancient Maya city of Tikal to the white sandy beaches of Belize's Placencia Peninsula while enjoying a wide range of adventure activities.
The Lodge at Chaa Creek is situated within a private 365 acre rainforest reserve with over 70 Maya archaeological sites and temples. The eco resort also boasts the renowned Natural History Centre, Butterfly Farm, professional Hilltop Spa, conference centre, pool, stables, canoes and miles of well-maintained jungle trails for hiking, bushwalking, horseback and mountain bike riding and a wide range of activities.
"Guests just need to mention that they're here for the Summer of Love and we'll make sure the staff know to provide that extra touch and a few surprise treats we're giving our summertime lovers," Mr Waight said, "It's definitely going to be our most ambitious, and best, Summer of Love yet."