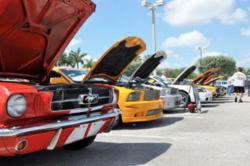 "This is the kind of world-class automotive lifestyle event where people come to see the best of the best in every category," Konigseder pointed out. "Which makes it the perfect place for Liberty Coach."
North Chicago, IL and Stuart, FL (PRWEB) April 03, 2013
If a chance to bid on hundreds of the world's rarest and most exotic automobiles isn't reason enough to get you to the Barrett-Jackson Collector Car Auction in Palm Beach the first weekend in April, here's another.
Three of the world's finest luxury motor coaches will be there, as well – courtesy of Liberty Coach.
That's right: In response to a last minute personal appeal from Barrett-Jackson, Liberty V.P. and co-owner Frank Konigseder agreed to join the sponsorship team for The World's Greatest Collector Car Auction™, slated to take place at the South Florida Fairgrounds in Palm Beach from April 4-6, 2013.
Now in its 11th year, the event routinely draws thousands of spectators and collectors from around the world. Who come to witness hundreds of classics, exotics, muscle cars, Hot Rods, Resto-Mods, and contemporary collectibles.
This year, they'll have a chance to see three of Liberty Coach's finest Prevost bus conversions, as well.
"While our new coach inventory is all but gone due to outstanding sales so far this year, we will have a pair of pre-owned coaches available for sale," Konigseder said.
"One is a 2012 Liberty Elegant Lady Double Slide with a Detroit Diesel engine and an enormous amount of floor and closet space. The other is a 2011 Marathon Double Slide that has been totally reconditioned to meet Liberty standards of interior luxury and mechanical excellence."
A third conversion coach, the classic 2008 Elegant Lady Ashton Edition #759A, will serve as an office and meeting place for Barrett-Jackson president Craig Jackson.
"The coach will make a perfect headquarters for Craig throughout the show," a Barrett-Jackson spokesman said. "It will sit right next to the exit for the cars coming off the stage, so there's a good chance you'll see it on TV."
The event is broadcast nationally on the SPEED cable network, which this year will air more than 20 hours of live, high-definition coverage.
The tentative schedule is for 2-8pm both Thursday, April 4th and Friday, April 5th, and 11am-1pm and 4-8:30pm on Saturday, April 6th. All timeslots are EDT on the SPEED Channel.
"This is the kind of world-class automotive lifestyle event where people come to see the best of the best in every category," Konigseder pointed out. "Which makes it the perfect place for Liberty Coach."
With locations in Stuart, FL and North Chicago, IL, Liberty Coach has been providing legendary leadership in the luxury motor coach industry for over 40 years. For more information about Liberty's custom Prevost motor coaches, please visit http://www.libertycoach.com or call 800-554-9877.