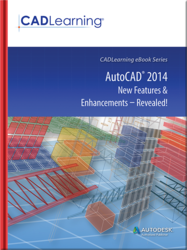 Bedford, NH (PRWEB) April 04, 2013
4D Technologies, Autodesk Authorized Publisher and maker of the industry-leading CADLearning products for Autodesk software, released today a new CADLearning eBook Series title for AutoCAD 2014. The AutoCAD 2014 New Features and Enhancements – Revealed! title is over 140 pages and contains 38 lessons which include embedded videos, text, images and interactive galleries.
The e-book is now available to AutoCAD users looking to learn about the latest release of AutoCAD software from Autodesk. Topics include lessons covering the new and enhanced functionality on user interaction, design exploration, documentation, connection and customization. Visit http://www.cadlearning.com/autocad-2014-new-features to view sample videos and get access to a streaming version of the e-book or download a copy to your desktop. This new e-book will also be made available for iPad users in the iTunes Bookstore in the coming weeks.
About CADLearning
CADLearning comprehensive self-paced learning for Autodesk software offers video tutorials, exercise files and assessments designed to maximize performance with leading CAD and BIM software programs including AutoCAD®, Autodesk Revit Architecture, AutoCAD® Civil 3D®, Autodesk® Inventor® and more. For additional information about CADLearning, visit http://www.cadlearning.com.
About 4D Technologies
4D Technologies, a leading Autodesk Authorized Publisher and developer of CADLearning, specializes in CAD and BIM software learning solutions and services for the Autodesk user community. 4D Technologies works closely with industry experts including professional instructors, trainers and consultants to develop its learning content. 4D Technologies addresses the learning needs of individuals and organizations in a wide variety of markets including architecture, engineering, construction, automotive and transportation, manufacturing, utilities and communication, and government and education sectors.
CADLearning is a registered trademark of 4D Technologies. Autodesk and AutoCAD are registered trademarks or trademarks of Autodesk, Inc., and/or its subsidiaries and/or affiliates in the USA and/or other countries. All other brand names, product names, or trademarks belong to their respective holders.
#