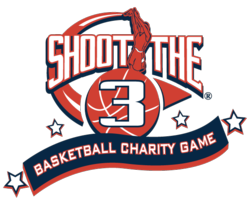 I am blessed to do what I love for a living and am honored to be in a position to give back to my community. - Managing Partner, Jerry Saunders
(PRWEB) April 08, 2013
On April 28, 2013, at 4pm, Shoot The 3 Basketball will produce its inaugural Shoot The 3 Basketball Charity Game in Altamonte Springs, Florida. The charity game will be held at Lake Brantley High School with a mix of Central Florida persons of influence. The goal is to create opportunities to play for purpose and provide financial donations to partnering charities.
Shoot The 3 Basketball has recruited men and women with varied backgrounds and professional experiences. Players and coaches include Chucky Atkins (Evans HS Varsity Boys Basketball Head Coach, Former NBA & Orlando Magic player), Ricky Padilla (Power 95.3 On Air Personality), Mean Jean (102 Jamz On Air Personality), Gene Martin (Orlando Magic Youth Foundation Coordinator), Players from the Orlando Lady Cats (Of the new ILC/Reebok Women's Basketball League), Mark Stiles (Stetson Basketball Alum & High Fives for Hope, Inc. Founder/CEO), Stewart Moore (Wesh2 News Anchor/Reporter), Lauren Johnson (Fox 35 Anchor/Reporter), Ryan Elijah (Fox 35 Anchor), Alisia Adamson (Partner HAWM Law Firm), DJ Skream (Nightlife DJ), J. Leon (Nightlife Director at Cuba Libre), Obie (Power 95.3 On Air Personality from Obie & Lil Shawn Morning Show), Jonathan Perry (Partner at Greenberg Traurig, UNCF Leadership Council Chair 2013), and more. The players and coaches are excited to play for purpose and generate funds to give to back to our community. #Playing4Purpose
Proceeds from the Shoot The 3 Basketball Charity Game will benefit these Central Florida organizations as of this release: Autism Society of Greater Orlando (ASGO), High Fives for Hope (H54H), United Negro College Fund (UNCF), and Partnership for African American Development (PAAD). The partnership with ASGO resonates closely with Managing Partner, Jerry Saunders, and his family, and is an awesome way to close Autism Awareness Month! Autism is a complex developmental disability that typically appears during the first three years of life and impacts the normal development of the brain in the areas of social interaction and communication skills. Autism is commonly recognized by a single puzzle piece or a multi-colored puzzle ribbon to signify awareness.
Chris Duhon's Stand Tall Foundation and the Sneakers-2-Succeed Campaign (in partnership with Art of Stepping) have also joined us in the efforts of playing for purpose. The campaign was launched a little over a year ago to collect new and gently used sneakers for children in need. There will be donation boxes on site and the shoes received will be distributed within the greater Orlando area.
Confirmed event sponsors and supporters to date include Whirly Dome, Winter Park Scenic Boat Tours, Barnard Fleurima with Live Republic, and the Orlando Lady Cats of the ILC/Reebok Women's Basketball League.
Shoot The 3 Basketball Charity Game will be played at Lake Brantley High School, 991 Sand Lake Road in Altamonte Springs, FL on Sunday, April 28, 2013 at 4pm. The doors will open at 3:30pm. Tickets are $12 in advance and are currently available online at http://www.ShootThe3Basketball.com/Events.
To learn more about fundraising and sponsorship opportunities, call 407-492-1608 or visit the website to download the information. Feel free to join the social media sites for updates, promotions and contests.