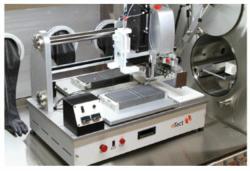 (PRWEB) April 03, 2013
nTact and MBraun are pleased to announce the two companies will be exhibiting together at the 23rd Finetech Japan 2013 FPD Exhibition & Conference in Tokyo, Japan. Finetech Japan is categorized as the world's largest FPD-focused tradeshow, presenting the latest technologies and products including the latest and cutting-edge touch panel and OLED products. Finetech Japan has always been a popular conference for companies to feature their latest manufacturing equipment, components and materials used for FPD development. In addition, with commercialization of nanoimprint and printed electronic technologies around the corner, this year the conference will feature a special zone showcasing these technologies.
During the conference, nTact and MBraun will be featuring their latest solution for the OLED display and lighting industries as well as for organic photovoltaic devices, which combines nTact's slot die coating technology with MBraun's unmatched expertise in inert gas processing. nTact will showcase and provide live demonstrations of their widely successful the nRad system, a slot die system specifically designed for R&D applications. The nRad features as a small-footprint, lower-cost slot-die coating system, engineered for use in R&D and pre-production environments. Through its close collaboration with MBraun, nTact designed this system to operate nearly seamlessly in MBraun's inert gas gloveboxes, to allow researchers to work in a clean, moisture and oxygen free environment. This type of solution has shown to be critical for solution processing in applications such as OLED, photovoltaic, and various organic and printed electronics which need to be processed under a nitrogen or argon gas environments.
"Finetech Japan is a key conference and exhibition for us as we aim to penetrate the Asian market with our new products and technology. Our partnership with MBraun significantly enhances our value proposition for companies interested in solution processing of OLED and other applications requiring the deposition of highly uniform films under inert conditions," says Miguel Friedrich, Vice President, Sales & Marketing at nTact. "Although we have had a long working relationship with MBraun, we look forward to Finetech as our first event to co-exhibit together since the signing of our formal partnership agreement," Friedrich added.
MBraun has been participating in the Finetech show for almost a decade and considers this event as a key platform to promote and introduce dedicated system solutions to the organic electronics industry. Over the years MBraun presented various system concepts which were primarily focused on encapsulation, vacuum deposition, sublimation and substrate handling solutions. This year's show is themed "solution processing under inert conditions" addressing the needs of research groups and the industry to reduce overall manufacturing costs.
Based on the strategic partnership between MBraun and nTact, the technology leader in slot-die-coating technology, both companies have a shared booth on which turn-key-concepts for solution processed organic devices are introduced to the public.
MBraun considers the joint display of nTact's nRad coater together with the series of MBraun's in-house designed process-tools for pre-treatment, curing and encapsulation a key element of a successful penetration of the global organic electronics market. Asked about the importance of the alliance between MBraun and nTact Daniel Kacerovsky, Director of Sales Asia at Mbraun added: "Offering customers the opportunity to get well-balanced, integrated systems for solutions processed devices is one of the key-elements to be successful in today's fast paced and ever-changing competitive environment".
nTact & MBraun will be exhibiting at booth 10-33 at the Tokyo Big Sight in Tokyo Japan from April 10th through 12th, 2013.
About nTact:
nTact is a leading global supplier of slot die coating systems and integrated process solutions for the display, microelectronics, alternative energy and related industries. The company's product lines include the nRad Systems, designed for coating applications in R&D and preproduction, along with the nDeavor Systems for pilot and full production. Integrated solutions can include modules such as atmospheric pressure plasma, hotplates, chillplates and vacuum dry, along with full automation. nTact has over 25 years of experience in delivering unique coating processes for a variety of applications in emerging and mature markets, including the deposition of organic materials for OLED displays and lighting, as well as conductive layers, dielectric layers, photoresists, suspensions, and active photovoltaic materials.
For more information, visit http://www.nTact.com
About MBraun:
From Lab to Fab – this policy is the guideline how dedicated equipment solutions for applications in the organic electronics industry are designed at MBraun no matter if it is OLED display, OLED lighting, organic photovoltaic or a printed organic circuit. Based on long-time experience all core processes which are required to fabricate OLEDs are covered starting from a variety of cleaning tools, over a comprehensive set of coating technologies up to the complete encapsulation. All equipment concepts are based on inertgas technology and gas purification systems which allow running all processes in the absence of moisture, oxygen and solvent vapours and if required in particle environments down to cleanroom class 1 levels. For the well-established vacuum coating process in-house designed PVD-systems equipped with a comprehensive set of source configurations are available which allow reliable, repeatable and stable process conditions under high vacuum environments of less than 10-9 mbar.
Being one of the very few suppliers in the world MBraun completes the coating processes with dedicated concepts for the hermetic sealing of the organic devices. UV-Cleaning and atmospheric plasma treatment, dispensing robots, desiccant mounting equipment and vacuum lamination with integrated UV-Curing – all process tools are covered from MBraun's product roster.
For more information, visit http://www.mbraun.com