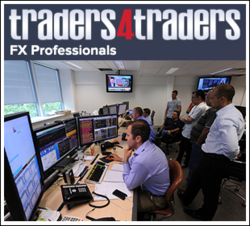 "We're excited to unveil these changes to our website and training programs, as well as the opening of our new offices," said a spokesperson for Traders4Traders
New York, NY (PRWEB) April 05, 2013
Traders4Traders is on the path to global expansion, as it is poised to become the leader in global forex trading and forex education services. The proprietary forex trading firm has been preparing to expand worldwide for nearly two years, and this will be demonstrated in the April 2013 launch of a New York office, to be followed by the opening of dealing rooms in London and Hong Kong. These new locations will join the current location located in Sydney, Australia.
In addition to new locations, Traders4Traders is also excited to announce a newly redesigned website that is the result of extensive redevelopment. The site features a members' area that can be accessed as both a traditional desktop website, as well as through a mobile application. The mobile application is the only one of its kind in the industry of forex educators.
As well as the expansion to locations throughout the world and a more advanced website with new capabilities, the company has also redeveloped trading programs that give interested individuals the opportunity to realize a career as a trader.
With the launch of the redesigned website, individuals interested in a career as a trader have access to useful tools, including the Live Trade Desk, an E-learning module, and managed accounts. Individuals taking part in forex training courses offered by Traders4Traders are able to complete programs either remotely or in-person, and the instructors of all training courses are senior members of the Traders4Trader trading team. The programs are designed to give traders the skills and knowledge required to trade forex confidently and successfully.
The forex training program starts with the Prop Trader Program and then progresses into the Fund Manager program. Candidates are then screened for suitability for the T4T Internship program, which is 12 months in duration, and allows traders to be mentored in a one-on-one environment by senior traders. Those with exceptional trading results will be considered for full time trading roles on the T4T proprietary trading desk.
"We're excited to unveil these changes to our website and training programs, as well as the opening of our new offices," said a spokesperson for Traders4Traders. "We have a reputation as being the best investment firm focusing only on the foreign exchange market, and now we're expanding our reach from Australia to the biggest cities in the world, and at the same time we're providing better services for our clients and amazing opportunities for future traders."
About Traders4Traders
T4T is a proprietary trading firm specializing in the currency market. Their training programs have been designed by traders with over 40 years combined FX experience as market makers. Traders4Traders's sole objective is to provide clients with high absolute returns within the boundaries of prudent risk management. They can be reached via their website at http://www.traders4traders.com/.