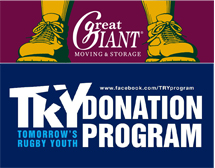 Across the country, Great Giant and Gentle Giant Moving Company think of moving as a team sport, which is why we hire professional and amateur athletes, as well as get involved with organizations like TRY.
San Francisco, CA (PRWEB) April 09, 2013
Great Giant Moving Company is pleased to announce their partnership with Tomorrow's Rugby Youth's (TRY) Donation Program. Embarking on its third year, the TRY Donation Program's mission is to collect used rugby equipment from established rugby clubs and redistribute these items to underfunded youth teams all across the United States. So far, more than 25 youth teams have benefitted from donated jerseys, boots, balls, tackle bags, cones, and more.
TRY Donation was started when Kevin Sullivan, an insurance broker and rugby player, and Ryan Burke, President of the Oakland Warthogs, noticed several local rugby youth teams were struggling to get the proper equipment to safely enjoy the sport they were playing. Burke and Sullivan organized a holiday donation program called Rugby Santa, but the overwhelming response proved that the program needed to be year round. Rugby Santa became the TRY Donation Program, and Sullivan began enlisting support from a movie producer, a graphic designer, and a rugby outfitter to help support and grow the program.
The subsequent avalanche of donations led Sullivan to reach out to Brandon Sparks, a Berkeley Rugby Coach and the manager of San Francisco moving company Great Giant, to help with storage needs. Sparks was happy to help TRY because after launching Great Giant in early 2011, Brandon leveraged his personal relationships throughout the rugby community to help recruit new employees while also getting involved with local clubs and organizations around San Francisco.
Great Giant and their parent company, Gentle Giant Moving Company, have a long history of supporting athletic programs in need of moving and storage services, including the Head of the Charles Regatta, Windermere Cup Regatta, the Boston Marathon, and many more across the country.
"Across the country, Great Giant and Gentle Giant Moving Company think of moving as a team sport, which is why we hire professional and amateur athletes, as well as get involved with organizations like TRY," explains Sparks. "Partnering with the TRY Donation Program is just another way to create synergy between our company and the athletic communities we serve."
With the 2013 rugby season underway, TRY is working on setting up donation centers at stadiums and arenas throughout California, as well as getting more established rugby clubs involved with the Donation Program. TRY's goal is to send kits to each and every request, even from the Youth Rugby Program in Afghanistan. For more information on TRY and Great Giant Moving Company, visit http://www.facebook.com/TRYprogram and http://www.GreatGiant.com
About Great Giant and Gentle Giant Moving Company, Inc.
Founded in 1980, Massachusetts Moving Company Gentle Giant is a premier residential and commercial mover, offering local moving, interstate moving, and international moving service. Named 2009 Independent Mover of the Year by the American Moving and Storage Association, one of the Boston Business Journal's Best Places to Work in Massachusetts in 2004, 2005, and 2006, winner of the 2006 International Torch Award for Marketplace Ethics by the Better Business Bureau, winner of the Better Business Bureau's Torch Award for Excellence in 2002, 2003, 2005 and 2008, nine-time winner of Boston Magazine's "Best of Boston," six-time winner of The Improper Bostonian's "Boston's Best Moving Company" award, twelve-time winner of the Angie's List "Super Service" award, and 2007 Top Small Workplaces award from the Wall Street Journal and Winning Workplaces, the company's services include craning, piano moving, complete packing services and unpacking services, and other related services. Gentle Giant offers storage facilities and dispatches crews from its 19 offices in California, Massachusetts, New Hampshire, New York, North Carolina, Rhode Island, Virginia, Washington, DC and Washington State. For more information, please call (617) 661-3333 or visit http://www.GentleGiant.com.