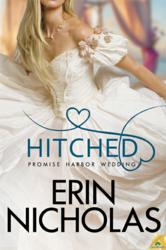 "We're honored to have an extremely loyal readership which has only grown over the years," publisher Lindsey Faber says. "Creating these unique reader experiences allows us to give something different to our readers as well as draw in a new audience."
Cincinnati, OH (PRWEB) April 09, 2013
For the past seven years, international publisher Samhain Publishing® has brought readers some of the most intriguing new voices in original ebook fiction. Now the publisher is giving readers exciting new choices in fiction as well, with three engaging offerings in Spring and early Summer:

Promise Harbor Wedding Continuity Series
It's the wedding of the season… only the groom's been Jilted, the maid of honor has Bolted, and the best man's been Busted. And the bride herself? She's about to get Hitched. This fast-paced and delightful series, penned by four separate authors (Jilted – Kelly Jamieson; Bolted – Meg Benjamin; Busted – Sydney Somers; Hitched – Erin Nicholas) debuts in March and April, 2013.
Strangers on a Train Short Story Collection
A train departs, with two strangers on board—thrown together by circumstances or fate. Will they find lasting romance? Find out in five separate short stories, each exploring a unique take on love both on and off the rails. Titles include Ticket Home (by Serena Bell), Big Boy (by Ruthie Knox), Back on Track (by Donna Cummings), Tight Quarters (by Samantha Hunter), and Thank You For Riding (by Meg Maguire). Debuts in April, 2013.
Savage Species Serialized Horror Novel
For the first time ever, Samhain Publishing will serialize a terrifying original novel, Jonathan Janz's Savage Species, in five installments, with new installments coming every two weeks. This tale of what happens during the grand opening of the Peaceful Valley Nature Preserve state park will kick off the summer vacation season with… bloodshed. Debuts in June, 2013.
According to publisher Lindsey Faber, Samhain's exploration of ways to engage readers is part of its dedication to giving a "small press experience" while delivering big press quality. "We're honored to have an extremely loyal readership which has only grown over the years," she explains. "Creating these unique reader experiences allows us to give back something different to our readers as well as draw in a new audience."
To see the latest news from Samhain Publishing, visit them online at http://www.samhainpublishing.com, or via Twitter at @samhainpub.
About Samhain Publishing
Launched in 2005 with a vision of bringing extraordinary fiction to compulsive readers (who sometimes can't wait for a book to actually be printed), Samhain Publishing® is an international publisher of ebook and traditional print fiction. One of the most prominent voices of original ebook fiction, Samhain represents some of today's brightest authors of romance and horror fiction. To learn why at Samhain "it's all about the story…", visit Samhain Publishing online at http://www.samhainpublishing.com.