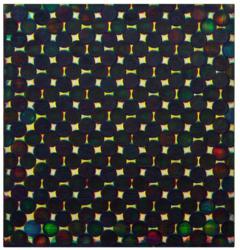 Santa Fe, NM (PRWEB) April 06, 2013
David Richard Gallery is pleased to present "Out Of Register, 1993 – 1998", the gallery's first solo exhibition for New Mexico-based artist Tom Martinelli, formerly of New York City. The exhibition will run through May 4, 2013 at the gallery located on 544 South Guadalupe Street, Santa Fe, New Mexico 87501, phone 505-983-9555 in the Santa Fe Railyard Arts District.
"Out of Register, 1993-1998", features a selection of acrylic paintings on canvas and panel as well as works on paper created by Martinelli from 1993 to 1998 while living in New York. This work is comprised of painted circles, or dots, of uniform size and regular all over grid patterns with many layers of transparent color applied one on top of the other, producing what appears as black or near-black circles on a white background. While the pattern may suggest a rigid process, the layers of color are not entirely uniform, often outside of the grid and appearing as accidental; hence, there is a blurring of the circular boundaries with subtle layers of more translucent colors out of register. There is something reductive and elegant about Martinelli's paintings, a simple circular form repeated in a regular pattern, but through his painstaking process and passion for and control of color, he imbues them with a complexity that is challenging, holding the viewer's attention and drawing them in closer to realize and experience the radiant color underneath the apparent optical effects of the black and white facades from a distance.
Martinelli's art-making practice has largely focused on color and abstract painting after earning his MFA at Hunter College, New York. Martinelli has had numerous solo exhibitions in New York and his artwork included in many group exhibitions in New York, Santa Fe, Albuquerque, Boston, Chicago, Dallas, Atlanta, Los Angeles and Pittsburgh, among other cities. His paintings have been exhibited internationally in Vienna, Austria, London and Manchester, England. Martinelli has received many grants and fellowships, including the distinguished Pollock-Krasner Foundation Award twice. His artwork has been reviewed in numerous publications including "New York Magazine", "ARTnews", "Modern Painters", "New York Times", "Art + Auction", "Review Magazine" and "THE Magazine".
David Richard Gallery specializes in post-war abstract art including Abstract Expressionism, Color Field, geometric and hard-edge painting, Op, Pop, Minimalism, Feminism and conceptualism in a variety of media. Featuring both historic and contemporary artwork, the gallery represents many established artists who were part of important art historical movements and tendencies that occurred during the 1950s through the 1980s on both the east and west coasts. The gallery also represents artist estates, emerging artists and offers secondary market works. Gallery hours are Tuesday through Saturday, 10:00 AM to 5:00 PM and by appointment.