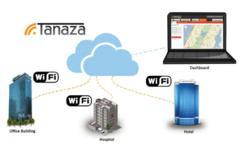 Hotspot providers get the flexibility to offer and deploy free and paid wireless access services under their own brand.
Milan, Italy (PRWEB) April 11, 2013
Tanaza just announced the release of cloud management capabilities specifically designed for Wi-Fi Hotspot providers, such as captive portal, splash pages and Radius authentication support. Tanaza intent is to help hotspot providers to reach extreme levels of operational efficiency in the operations of deployment, configuration and monitoring of their devices.
This should be especially relevant for those young companies and entrepreneurs that are looking around and see the need for Wi-Fi everywhere as a great business opportunity: for example they can go out, speak to hotels, restaurants, café, stores and deploy Wi-Fi hotspots, creating a network of hundreds or even thousands of Wi-Fi Access Points and offering managed services to those venues that want just to make their customers happy. This is a global phenomenon, which has been defined as the "Race to grab the land" by the Financial Times: hotspot providers are competing with each other and only the fastest are able to conquer the land putting their own Access Point on the map.
Until today, only large Managed Solutions Providers and Large Enterprises were able to win within this challenge: they were the only ones able to have economy of scale and an efficient process to deploy thousands of APs in a short time. The young entrepreneurs literally see their dream to deploy an AP in "that café close to their house" vanishing as someone else came first. Someone big, usually.
According to Sebastiano Bertani, CEO of Tanaza (http://www.tanaza.com), things have changed: "We designed some specific features of our Wi-Fi cloud management platform, such as the RADIUS support, the captive portal and splash page feature, to help any hotspot provider to reach unprecedented levels of operational efficiency". He then continues explaining the advantages given to small companies looking for an efficient cloud Wi-Fi management solution: "Only large providers such as carriers could have an efficient process until yesterday. Now, thanks to our solution, anyone can enjoy the advantages of hotspot fast-deployment, that literally allows hotspot providers to ship the units to customers such as cafés or restaurants, and then configure everything remotely, through a centralized dashboard."
Andre Claude Benin, founder of ZucchinaTech, one of the visionary providers that already understood the potential of this innovation in 2011, stated that, "Cloud solutions like Tanaza are much better than Windows or Linux based controllers: we now have less costs, higher efficiency and infinite scalability. So we have more time to go out and to sell, which is our job!"
More positive feedback about the benefits of Tanaza for hotspot providers comes from Ivan Muccini, Senior Product Manager at Cloud4Wi, who is now rolling out the solution, "Tanaza speeds up the delivery and provisioning phases of a new hotspot, avoiding the expensive one-by-one pre-configuration of an access point. The multi-vendor support, together with the centralized cloud management, matches perfectly the Cloud4Wi approach enabling an effective deployment of next gen hotspot networks."
Peter Thalamann, launching his latest hotspot project called Yellowhive "Tanaza enables wireless service providers to manage networks of any size, easily and affordably with a secure browser based dashboard. Providers like us get the flexibility to offer and deploy free and paid wireless access services under their own brand. Tanaza allowed us to unlock our potential."
Clayton Denize, founder of Mai Wi-Fi, a New Zeland and International Wi-Fi Hotspot Provider, confirms, "Tanaza has helped tremendously to make our life easier as a provider of managed Wi-Fi hotspots and make us more efficient. Best of all, the interface is so easy. Thank you Tanaza for your great product."
Joanna Wall, Channel and Sales manager, adds: "Most important of all, Tanaza is the only solution that allows to cloud manage multi-vendor devices. Some customers are using Ruckus as they might want very high levels of radio performance, other are using Ubiquiti UniFis in order to get a cost-effective solution, and an other group which is emerging is using TP-Link devices, which are great in small cafés environments where the cost is king. Tanaza can literally offer great levels of efficiency and the flexibility to pick the model that fits within the customer profile."
So it seems that more and more small Wi-Fi hotspots providers have now a new weapon to grab more land and compete, with a higher efficiency, and with the biggest ones. And have the possibility to become one of them in a shorter time.
About Tanaza (http://www.tanaza.com)
Founded in 2010, Tanaza's mission is to make Wi-Fi management easy and affordable, by removing the need for expensive hardware controllers and enabling remote management of any vendor access points in multiple locations through one intuitive interface.
A demo, free trial or quotation is available by contacting your local Tanaza Channel Partner or Tanaza http://www.tanaza.com, sales(at)tanaza(dot)com or +39 02.8718.8553.