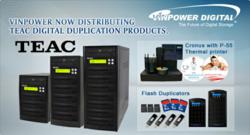 TEAC is pleased to establish a partnership with Vinpower Digital,...
Los Angeles, CA (PRWEB) April 05, 2013
Vinpower Digital, a recognized global manufacturer and distributor of digital duplication equipment and accessories, will now add another very popular brand name to its arsenal of products. Vinpower has announced that it has initiated a partnership with TEAC to distribute the full line of TEAC optical disc and flash digital duplication hardware as well as TEAC's line of thermal printers.
"TEAC is pleased to establish a partnership with Vinpower Digital, that will help promote and grow the full line of TEAC digital duplication hardware and thermal printer products," proclaimed Les Luzar, VP Sales & Marketing at TEAC America, Inc.
TEAC offers a series of standalone manual tower CD/DVD, Blu-ray, USB flash, and SD/Micro SD duplicators, along with the P-55 full color thermal printer that works on optical discs, and select USB pen drives.
"The TEAC brand has a long and extremely strong history in providing top of the line electronics. Vinpower is honored to have the opportunity to partner with TEAC to expand the market and visibility of the TEAC duplication and printer hardware," exclaimed Ryan Swerdloff, VP of Marketing and Sales at Vinpower Digital.
For more information about the full line of TEAC Duplication hardware and thermal printers, please visit http://www.vinpowerdigital.com.
About Vinpower Digital
Vinpower Digital is the leading manufacturer of digital duplication equipment ranging from optical discs to flash memory. With our corporate office in Los Angeles, California, USA, production offices in Taipei, Taiwan, sales offices in China and Germany, we have the ability to deliver the most advanced and reliable digital duplication controllers, manual towers, and robotic autoloaders anywhere in the world. As a true manufacturer, Vinpower Digital has the ability to OEM/ODM customized applications and equipment for qualified vendors on a number of levels. Never satisfied with good enough, Vinpower Digital constantly pushes the envelope to develop new features and enhance their existing products to stay in tune with the customers' needs and expectations.
For further information on any or all of Vinpower Digital's line of duplicators, please visit our website at http://www.vinpowerdigital.com.