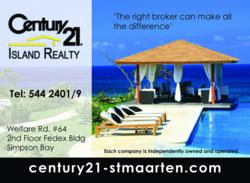 Century 21 St. Maarten offers to owners seeking the best property management specialist.
COLE BAY, St. Maarten, Dutch Caribbean (PRWEB) April 11, 2013
Maintaining a property in paradise, that is the Caribbean, is easy with the Century 21 St Maarten property management services. This full service and personalised management approach covers properties on St Maarten and St Martin.
This improved Century 21 St Maarten property management service is coupled with the already outstanding and award winning real estate service to St. Maarten / St. Martin and surrounding islands. Century 21 St. Maarten is a specialist in the rental, real estate and management of luxurious private villas and condos on both French and Dutch of the island.
Century 21 Head Broker Ritika Asrani says: "To be truly effective, a strong management team must understand that the whole is more than the sum of its parts. This is what Century 21 St. Maarten offers to owners seeking the best property management specialist."
Owners who have worked with Century 21 St. Maarten or have brought property from the agency have also contracted the agency to management their property, a worry-free and stress-free alternative to owning in the sunny Caribbean.
The property management service covers all aspects of running an income property, from finding and screening tenants to property maintenance, rent collection, and handling any and all issues that may arise.
Century 21 Island Realty is very experience in managing rental properties. Keeping track of multi rental properties can be difficult for owners who don't live on island year round and even for those who do. The Century 21 agents are professionals in this field. They know the intricate layout of the island, from its cobblestone streets to off beaten paths. They are also knowledgeable about the country's legal system in the sphere of property contracts, leases and other procedures.
Maintenance is a worry-free with Century 21 Island Realty. "Let us do the work so you have more time to enjoy the income from your properties," Asrani says.
ABOUT St. Maarten/St. Martin
St. Maarten/St. Martin is a 37-square mile island at the northern end of the Lesser Antilles, about 150 miles southeast of Puerto Rico. The island, shared between the Dutch and French, is just three hours from New York City, New York and two hours forty-five minutes from Miami, Florida. It is fondly called "The Friendly Island" as a nod to its commitment to hospitality and making visitors feel at home. The island is also known as "The Culinary Capital of the Caribbean" with its multitude of restaurants spanning almost every major cuisine or a fusion that of.
ABOUT Century 21 Island Realty
Experience and knowledge of St. Maarten/St. Martin, Saba, Statia, St. Barths and Anguilla are cornerstones of Century 21 Island Realty in St. Maarten. Our realty company has been voted as number one in St. Maarten for five consecutive years. Century 21's agents recognize that their reputation is their strength. Reputation is indeed a plus, because the majority (some 80 per cent) of Century 21's business is generated via client referrals, many from the luxury market. The management team has the most accomplished professionals in real estate. They represent more than 50 years in the business.