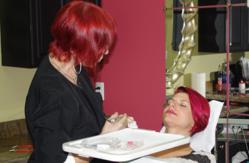 a tax refund offers a fresh start right away for all women who have challenges saving during the year.
Scottsdale, Arizona (PRWEB) April 05, 2013
It's a jackpot. It's "found money." Its official name is an income tax refund. And the Internal Revenue Service reports that over three-quarters of the Americans filing income tax statements are expected to receive one this year. The IRS claims the average amount for a tax refund check totals more than $3,000. Some will use the money to pay down credit card debt or invest their homes or the stock market. But many women will reward themselves by investing in their appearance. Permanent makeup provides the best value and benefits in the cosmetic and beauty industry.
"There always seems to be a spike in interest at the end of every tax season," says permanent makeup expert Sally Hayes. "Spring is a time of new beginnings. And a tax refund offers a fresh start right away for all women who have challenges saving during the year. When a chunk of money lands in their lap, many women would rather use it to add beauty and self-confidence than spend it on something which doesn't give them happiness.
Hayes knows quite a bit about helping women find happiness through an enhanced appearance. She has performed tens of thousands of permanent makeup procedures over a professional career spanning more than 25 years. With offices in Scottsdale, Arizona, New York, New York, and Las Vegas, Nevada, she specializes in eyebrow tattoos, permanent eyeliner, permanent lip makeup, and camouflage permanent makeup.
The permanent makeup industry has followed the widespread popularity of traditional body art tattooing into becoming a multi-million dollar enterprise. This process of cosmetic tattooing is the art of depositing dermatologically tested pigments into the dermis layer of the skin. The purpose is to create the appearance of makeup for those who want to save time every day or who want better results.
"Women today bear the burden of always being judged on their appearance," said Hayes. "So any woman who knows the importance of how she looks can easily justify using money from an income tax refund for permanent makeup. If you compare the cost and frequency to Botox, hair salons, topical makeup and so on, permanent makeup saves time and money because the results last for years, not just a couple of weeks or months.
About Sally Hayes Permanent Makeup
Sally Hayes is widely regarded as the nation's leading permanent makeup expert artist. She is recommended by many of the leading cosmetic surgeons across the United States who refer patients to her. Since 1986, she has successfully performed tens of thousands of procedures delivering undetectable makeup solutions which enhance a woman's appearance.
Contact Information:
Sally Hayes Permanent Makeup
11201 N. Scottsdale Rd. # 4
Scottsdale, AZ 85253
(480) 951-0539