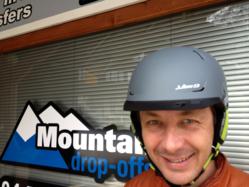 It's great! My kids will ski with me now that I have a cool new helmet.
(PRWEB UK) 6 April 2013
Airport transfer specialists Mountain Drop-offs has delighted seven clients in seven days with its Spring Fever Give-Away.
The Chamonix-based company, supported by eyewear specialists Julbo, entered all those who booked online via http://www.mountaindropoffs.com into its daily Spring Fever prize draw - the lucky winners of which picked up a total of more than 700€ of skiing kit.
The winners were Jacques Belissent, Amandine Cuenca, Steve White, Sophia Otala, Liv Runge, Thalia Papadopoulou and Kevin Sear. They each won either a pair of Polar goggles or an Invader ski helmet from – or in Kevin's case, the winner of the final day of the Give-Away, both items!
All of the winners were presented their prize by their Mountain Drop-offs driver during their transfer to or from Geneva airport. Chamonix-local Jacques Bellisent commented: "It's great! My kids will ski with me now that I have a cool new helmet."
Mountain Drop-offs operates airport transfers all year round between Geneva and host of ski and alpine resorts across France and Switzerland. Managing director Simon Hills said: "We wanted to do something just for fun to reward our customers and reinforce the fact that we pride ourselves on delivering a first class service with personality."
"Julbo also loved the idea so supported us with the prizes and the entire Mountain Drop-offs team has enjoyed putting the Give-Away into place. The winners' smiles have made everyone happy. It's also enabled us to demonstrate that good service is about always looking for the next opportunity to delight your customers."
Ends