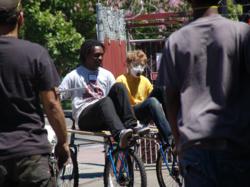 'Bikes for West Oakland' embodies the heart and soul of The Crucible's community initiatives
Oakland, CA (PRWEB) April 05, 2013
The Crucible, West Oakland's premier industrial arts and educational space, has been selected as one of 200 finalists in the State Farm Neighborhood Assist™ program. Chosen from over 3,000 submissions, The Crucible's "Bikes for West Oakland" project is live on Facebook, with all Facebook users eligible to vote for the cause up to ten times a day. The forty causes that receive the most votes by April 22, 2013, will receive a $25,000 grant to implement their respective projects.
"Bikes for West Oakland" embodies the heart and soul of The Crucible's community initiatives. Comprised of Bike Fix-A-Thons, the Earn-A-Bike Program, and Art Bike Frame Alteration classes, The Crucible's Bike Program builds viable job skills, helps community members gain access to goods and services, bolsters health, and sparks creativity. The program impacts over 700 youth and 2,000 community members in the West Oakland area each year. A $25,000 grant from State Farm would enable The Crucible to purchase materials, compensate instructors (many of whom live in the neighborhood), and expand the program to serve even more Oakland residents.
To support The Crucible's "Bikes for West Oakland" initiative, visit the State Farm Neighborhood Assist Facebook page, install the application, and click on the "Vote" button up to ten times in a row. The voting phase is open from April 4 – April 22 and winners will be announced on April 29.
State Farm Neighborhood Assist is a crowd-sourced, national philanthropic initiative that lets communities determine where grant funding is awarded, exclusively through Facebook. The initiative utilizes the State Farm Youth Advisory Board to vet submissions for causes and allows Facebook users who download the free State Farm Neighborhood Assist application to vote for the final 40 grant winners. The Crucible is one of only three causes in Oakland that are in the running to win $25,000, and Bikes for West Oakland is one of only three bicycle-related causes nationwide.