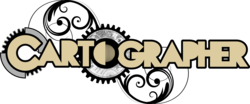 We yearn for something more than what pop-culture is selling. For us, it's about communicating and connecting with people on a different level
Hollywood, California (PRWEB) April 06, 2013
Cartographer has recently completed recording their Debut Double EP Release, "Alpha Wolf" and the self-titled "Cartographer" which are set to be released April 23, 2013. This album was produced, engineered, and mixed by Nick Morzov at HSR studio's in North Hollywood, CA.
"We have seen an amazing amount of support leading up to this Double EP Release," says Brian Bluma (Manager of The Band). We are excited to bring the sound of explosive guitars, rhythmic drums, and lyrical flow and our inspiration to life with an electronic heartbeat for all to hear," says Brandon Covington (vocals). Two other band members Nick Morzov (guitar), and Andy Gentile (drums) also added, "we feel our fans will be thrilled."
"We yearn for something more than what pop-culture is selling. For us, it's about communicating and connecting with people on a different level," says Brandon Covington (the lead singer).
Cartographer's Album Release Party takes place at the Legendary Club Moscow at Boardner's in Hollywood, CA on April 17, 2013. "With their unique fusion of Electro Rock, Cartographer will surely take you to uncharted territory. If you haven't seen Cartographer live you are truly in for a mind blowing experience at this 18+ event," adds Jessica Lavarde (a fan).
For those who wish to hear Cartographer live they may tune in to http://www.ustream.tv/channel/cartographer-official this Saturday for free acoustic show on our Ustream account. Starting at 2:00 PST /5:00 EST. Cartographer will have a live chat going and will be taking watchers' questions.
Cartographer track listing:
Confronting My Own Mortality
Stockholm Syndrome
Paradox
Porcelain Doll
To The Floor and Out Of Reach
Alpha Wolf track listing:
Spiders
Insomnia Might Be Preferable To This
Love, Lust, or Overdose
Bite Down and Wait to Die
Patience and Madness
You may visit their YouTube Channel at http://www.youtube.com/user/officialcartographer. Here you may listen to some of their songs.
This press release was submitted by Dare to Be Social a prominent Atlanta Social Media Agency. You can learn more about their services by following the link: Dare To Be Social