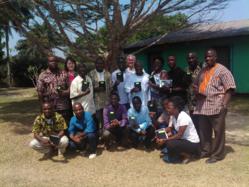 We think that these electronic books are so much more important to us than even getting Internet access on our campus.
Nashville, Tenn. (PRWEB) April 08, 2013
Professors and students at the Gbarnga School of Theology (GST) in Liberia spend time and money copying passages the students need for study because they don't have enough books. But that could change once a pilot project using e-readers gets underway.
Two United Methodist agencies are collaborating to raise $30,000 to buy 100 electronic books and the texts the students need for the seminary, which was occupied by rebel forces and badly damaged by soldiers during Liberia's civil war.
"These e-readers will revolutionize the academic atmosphere on campus," said the Rev. Dr. Yatta Young, dean of the seminary. "I know this pilot project will work because I know our challenges, and this project deals with our challenges. We think that these electronic books are so much more important to us than even getting Internet access on our campus. We have been copying passages out of our books for the students. This is costly and time-consuming for us and for the students."
The General Board of Higher Education and Ministry and the General Board of Discipleship are funding the pilot project initially, though they are seeking donations to offset the costs and keep the program going beyond the pilot phase and initial purchase. The United Methodist Publishing House is providing a significant number of titles at no cost.
For faculty, staff, and students to have a e-reader, about 100 devices will need to be purchased and pre-loaded with theological texts. The major cost of the project is the content – books on subjects including Hebrew and Greek, systematic theology, pastoral care, psychology, research, leadership, reference books, even math and physical science and military science. The cost of the content is around $1,200 retail from Amazon, but discounts have reduced that to a little more than $200 per e-reader for the texts and content. So texts worth $200, plus $69 for the e-reader and a small amount for on-site management of the project averages out to about $300 per electronic book, or $30,000 for 100.
Students must pay $30 a year for the use of the e-readers, with that money to be set aside in a local fund for shipping for replacement e-readers or eventually buying new ones for new students.
"Providing this kind of access to books and materials revolutionizes teaching and learning in areas of critical need," said the Rev. Karen Greenwaldt, top executive of the General Board of Discipleship. "Electronic delivery of theological resources also may provide hope for how theological materials are made available in many other educational centers around the world."
The Rev. Kim Cape, general secretary of the General Board of Higher Education and Ministry, said electronic books are "a groundbreaking way to provide content for theological education. Not only will the e-readers open the world to the students, it will be easier to gain access to African authors who are writing material that is more appropriate for the African context."
In the first phase of the project, faculty recently received electronic books and training so they can learn to use them creatively and determine what texts they want students to read, which will help focus the purchase of content, said the Rev. Stephen Bryant, Director of Discipleship Resources, International at the General Board of Discipleship. Then, students will get e-readers in the fall of 2013. "We hope this project will provide affordable access to appropriate content, have a positive impact on teaching and learning, and a strong donor response to sustain the continuation and expansion of the program to other sites," Bryant said.
Young said the e-readers are an answered prayer.
"My husband prays every night: 'Please send people to help GST. Please send joy to our campus.' And God has answered that prayer!" she said.
Bishop Arthur F. Kulah, a retired bishop in Liberia who teaches at the seminary, said students will feel more connected to the rest of the world and the modern age. "For the most part, they have been left out of this sense of progress," he said.
Young said that now, with few books in the library, students spend a lot of money copying chapters they must read, and instructors spend a lot of time making notes from their own textbooks.
The e-readers will provide easy access, and students will be able to use the money they previously spent on copies for living expenses, Young said. In addition, they will be using more current texts.
One of the continuing problems in Gbarnga is electricity, but Young said her understanding is that the e-readers will hold a charge for several weeks and since the material will be pre-loaded, Internet access will not be needed.
"At least, every one of us can manage to charge the e-reader once a month," Young said.
Young and Bryant both said the language of instruction is English and they do not foresee any difficulty finding content for the e-readers that is appropriate for the African context.
Learn more about this project or donate online at http://www.gbod.org/ereaderproject.