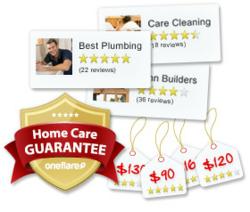 Sydney, NSW (PRWEB) April 06, 2013
Oneflare, a new online company that helps customers connect with qualified businesses, provides Australians with a simple and cost-effective way to take care of home services and other residential matters. A customer can request a service for free, then Oneflare finds qualified providers and gathers competitive quotes for the customer to choose without spending time to phone companies.
"We know how chaotic it can be when you need to find a qualified electrician, landscaper or carpenter, especially one with the right licences," said Marcus Lim, CEO of Oneflare. "At Oneflare, we decided to do all the searching and price gathering, so all you need to do is hire the right company to do the job!"
Oneflare is a different kind of company because it researches and investigates companies, marking them with verification tags once they notify Oneflare of their valid ABNs, public liability insurance certificates and/or licences. The website also includes ratings and reviews from previous customers, providing valuable feedback that can build upon a company's reputation.
"Reputation is a key factor when hiring a tradeperson, according to a recent survey Oneflare did with Newspoll," explained Lim. "69% of Australians care more about a tradie's reputation compared to price, and 90% of them gather at least two price quotes before hiring someone to provide a variety of home services."
With Oneflare, all this information is at your fingertips when submitting a service request for free. And the company places a wealth of trust in each verified company – Oneflare will pay up to $500 for another verified business, in the rare case that something is performed poorly or with negligence.
"Whether someone is painting a fence, building a website or fixing a leaking pipe, Australians are placing their trust in a tradesperson to do the job effectively and efficiently, which is why reputation is so important," said Lim. "At Oneflare, we eliminate the time and hassle in finding someone who can handle certain home services or maintenance, so it puts the consumer in the driver's seat."
Businesses and customers can sign up at Oneflare's website – available at http://oneflare.com.au – or call the customer support line at 1300 886 118. Operating hours are 9AM to 5PM AEST, Monday through Friday.
In addition to assisting customers find qualified, reliable professionals, Oneflare offers low rates for businesses who are looking to connect with customers in other suburban communities or regions throughout Australia. More information is available at Oneflare's website or through the customer support line as well.