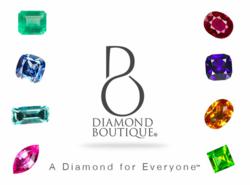 With your inspiration and our expertise we can create something spectacular together - Pritesh Vegad
(PRWEB UK) 8 April 2013
Diamond Boutique is proud to introduce their unique design service which allows blushing brides to customise or design their own pieces of bespoke jewellery.
For many people, choosing the perfect engagement or wedding ring can be both a daunting and an exhilarating experience. Diamond Boutique recognise this and can help to bring even the most intricate and complicated design ideas to life. At Diamond Boutique the 'Art of Possible' begins with an initial discussion with their design team who will learn more about you and your inspiration to establish design ideas.
Located in London's exclusive Mayfair district, Diamond Boutique's team of jewellery designers work closely with clients to help them realise their perfect item of jewellery. The bespoke process starts with technical hand drawings of the piece. Once a drawing has been approved Diamond Boutique will bring the item to life using 3D CAD/CAM giving the client a preview of how it will look. The end result is a truly unique, personalised piece not available anywhere else, created exclusively on behalf of the client.
Diamond Boutique's Managing Director, Pritesh Vegad, says "Having the privilege of travelling around the world to personally source unique gemstones allows me to ensure that the jewels in our pieces are natural, high grade and sourced exclusively from ethical suppliers. This is imperative in our business, and as a company we ensure that our staff and suppliers work to the highest ethical standards."
Not only can Diamond Boutique help you to create an amazing piece of jewellery but they can also source rare, natural high-grade coloured gemstones such as alexandrite, near flawless 'pigeon blood' ruby, padparadscha sapphire, colour-change garnet, black opal as well as fancy colour diamonds, within days of the client's request.
Diamond Boutique can work in 9 to 22 carat varieties of yellow, white and rose gold, as well as palladium and platinum. Using only natural coloured gemstones and diamonds which are H+ in colour/ SI1+ in clarity ensures that each customer can take home a unique high quality piece of jewellery that will be treasured for years to come.
Diamond Boutique is a proud member of the British Jeweller's Association, and uses natural gemstones and diamonds that have been ethically sourced in accordance with the Kimberley Process.