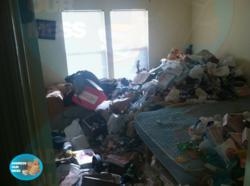 Make no mistake. Hoarding is a dangerous disorder...
Mount Laurel, New Jersey (PRWEB) April 05, 2013
Hoarding awareness is becoming more prevalent in a society where documentaries and social media make it easier for sufferers of the condition to come to grips with their issue. Make no mistake, hoarding is a dangerous disorder for people who hoard and the families and friends who know them. Hoarding estranges relationships, strains will power, and sends a typically gentle person into the throws of depression. Dr. Gail Steketee, Dean of the Boston University School of Social Work, recently started implementing different forms of Cognitive Behavior Therapy on patients suffering from the tortures of hoarding.
"We have developed a reasonably effective cognitive and behavioral treatment for hoarding," explains Dr. Steketee in an interview with Help Starts Here. "Treatment takes 6-12 months (and sometimes longer for more severe clutter)." When asked about the success rate of the treatments, Dr. Steketee explains, "This treatment… leaves about 75 percent of people who complete it feeling much more or very much improved."
Like all treatments and fixes, both large and small, the first step must be taken in order hope to prevail. Hoarding cleanup experts Address Our Mess agree with Dr. Steketee's practice of giving people a unique opportunity to put the power back into their own hands. By taking advantage of intimate, confidential cleanup services, the Boston University program will provide a means to an end for hoarders being tortured by their own condition.
Seeking help is a tough step to take. Interestingly, while studies show that men have a tendency to hoard more than women, statistics suggest that women seek treatment more than their male counterparts. "We are not sure if (men) are less likely to recognize that they have a problem," says Dr. Steketee, "or just less interested in treatment." Whether pride or lack of interest is the case, taking the initial first step is vital to the overall quality of life for hoarders and their loved ones.
While the physical hazards within the environment of a hoarder are ever-present, emotional damage is an even greater danger. Most hoarders tend to distance themselves from anyone who is not a member of their immediate family. Address Our Mess finds that the majority of their clients have had little to no interaction with their extended families for months or even years. The effects on hoarders' immediate family members put those relationships in jeopardy as well. Dr. Steketee explains, "As many children of hoarders can attest, some parents who hoard do not attend as closely as they should to the developmental needs of their children, space for play alone or with friends (amongst) other social needs."
The overall health and quality of life for hoarders and their families only benefit from Dr. Steketee's program. The program cannot be successful without taking that initial step toward a healthier lifestyle by contacting a hoarding specialist. Life after hoarding can be daunting. But according to Dr. Steketee, "Our individual treatment data indicate that people who improve with CBT do not relapse noticeably within the first year of treatment." According to Address Our Mess, this study and treatment provide optimism where hope was sorely lacking until their inception.