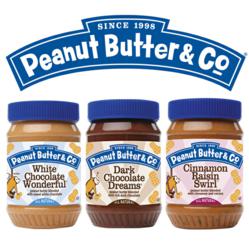 Chicago, IL (PRWEB) April 08, 2013
Peanut Butter & Co. was recognized for its marketing efforts at the 30th Annual Reggie Awards, earning a silver medal in the Emerging Brands & Start Ups category for its 2012 "Build A Better Breakfast" Campaign. The award was presented on April 4, 2013 at the 2013 Annual Marketing Conference, held by the Brand Activation Association (formerly known as the Promotion Marketing Association) in Chicago.
"Build A Better Breakfast" was a two-part promotion held in January and March of 2012 that engaged 12 food bloggers to develop healthy breakfast recipes that combined Peanut Butter & Co. peanut butter with yogurt from Stonyfield or oats from Bob's Red Mill.
For each promotion, consumers were invited to vote for their favorite recipe from six created by invited bloggers at a dedicated microsite (http://www.NuttyAboutYogurt.com and http://www.NutsAboutOats.com). The blogger whose recipe earned the most votes received $1,000. Consumers who voted were entered into a sweepstakes, five of whom were randomly selected to receive prize packs containing products from Peanut Butter & Co. and the respective partner brand. After voting, consumers received $1.00-Off print-at-home coupons from both companies, delivered through a Coupons.com integration on the microsites.
Contest and sweepstakes management for the campaign was handled by promotions agency Little & King.
"With growing competition in the spreads category, 'Build a Better Breakfast' really helped us stand out from the crowd and make the register ring," said Peanut Butter & Co. Founder & President Lee Zalben. "And while our focus as a brand is always on creating engaging promotions for consumers, it is wonderful for our marketing team to be recognized by the industry for the quality of their work."
About Peanut Butter & Co.
Peanut Butter & Co. began in 1998 as a cozy little sandwich shop in Greenwich Village, NYC and has since become one of the fastest growing natural/specialty food companies in the US. The Company's ten varieties of all natural, flavored peanut butter are available in over 15,000 supermarkets and specialty retailers, and Dark Chocolate Dreams, the Company's chocolate flavored peanut butter, is the #1 selling all natural chocolate nut spread in the country (Source: IRI). Peanut Butter & Co.'s products are made exclusively from USA-grown peanuts. Find out more at http://www.ilovepeanutbutter.com and http://www.facebook.com/PeanutButterCo and http://www.twitter.com/PeanutButterCo.